Contact us
Paris Ouest (Paris 16ème - Victor Hugo)
Sotheby's International Realty
138 Avenue Victor Hugo
75116 PARIS, France
Paris Ouest (Paris 16ème - Auteuil)
Sotheby's International Realty
50 rue d'Auteuil
75016 PARIS, France
Paris Ouest (Paris 17ème - Etoile Monceau)
Sotheby's International Realty
82 Avenue de Wagram
75017 PARIS, France
Paris Ouest (Neuilly-sur-Seine)
Sotheby's International Realty
Place Sainte Foy - 2 Rue de Chézy
92200 NEUILLY, France
Paris Ouest (Hauts-de-Seine - Yvelines)
Sotheby's International Realty
Place Sainte Foy - 2 rue de Chézy
92200 NEUILLY, France
Paris Marais
Sotheby's International Realty
37-39 rue de Turenne
75003 PARIS, France
Paris Est
Sotheby's International Realty
14 rue de Charonne
75011 PARIS, France
>
>
>
Luxury real estate, foreign buyers are back
Le Nouvel Economiste

The luxury real estate market is not experiencing the crisis. Between 2019 and 2022, professionals in the sector have achieved double-digit growth. And between the lifting of health restrictions and the favorable exchange rate for the dollar, foreign investors are making a comeback in France, despite a slight scarcity in the supply of prestigious properties with an exterior and without defects. Properties between 750,000 and 2 million euros are monopolized by French customers. Once we exceed 4 million, 50% of transactions involve foreign buyers. "By the end of 2022, beginning of 2023, we will return to the pre-pandemic distribution between foreign and French buyers, in other words 50-50 in Paris and 80-20 for the Côte d'Azur" Alexander Kraft, CEO of Sotheby's International Realty France-Monaco notes. "There will be no shortage, as the market remains fluid. Nevertheless, I believe that prices will plateau, and at a high level. The fever of the French will go down again and the very qualified foreigners will not buy anything. It's a return to normal" he adds.
These foreign buyers who love French heritage, the "High-Net-Worth Individuals" (people whose investable cash exceeds a certain amount) are essentially European. They are English, Belgians, Germans, Swiss or even Scandinavians. But the Americans are also very present, represented by good Bostonian and New York society, and for some time by Californians. The cause? Paris and its postcard effect. Formerly fond of apartments with a view of emblematic monuments, this clientele is increasingly looking for the village atmosphere of certain neighborhoods and wish to conform to the French lifestyle. This effect is not to the detriment of French buyers, quite the contrary. Above all, the French want a (co)principal residence, that is to say a second main residence where they have the possibility of spending more time, which they will keep in the long term and for which they are ready to put the price, while foreigners are looking for a secondary residence. Unlike the French, they are "generally more greedy in terms of services, they want a property that is ready to be inhabited. Even an old castle, for example, must have been renovated," Alexander Kraft explains. However, once they find a property that suits them, they do not hesitate to make an offer quickly.
Click here to read the article
Paris Ouest Sotheby's International Realty, your reference for prestigious real estate in Paris
The latest articles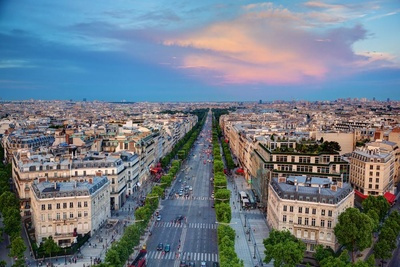 Real estate: real prices in Île-de-France, city by city
Real estate transactions in the Paris Region fell by a significant 25% in the second quarter of 2023, affecting all cities in the region. This trend is marked by an extension of the average property sales time, from just one month in 2022 to three and a half months...
Read more