Contact us
Paris Ouest (Paris 16ème - Victor Hugo)
Sotheby's International Realty
138 Avenue Victor Hugo
75116 PARIS, France
Paris Ouest (Paris 16ème - Auteuil)
Sotheby's International Realty
50 rue d'Auteuil
75016 PARIS, France
Paris Ouest (Paris 17ème - Etoile Monceau)
Sotheby's International Realty
82 Avenue de Wagram
75017 PARIS, France
Paris Ouest (Neuilly-sur-Seine)
Sotheby's International Realty
Place Sainte Foy - 2 Rue de Chézy
92200 NEUILLY, France
Paris Ouest (Hauts-de-Seine - Yvelines)
Sotheby's International Realty
Place Sainte Foy - 2 rue de Chézy
92200 NEUILLY, France
Paris Marais
Sotheby's International Realty
37-39 rue de Turenne
75003 PARIS, France
Paris Est
Sotheby's International Realty
14 rue de Charonne
75011 PARIS, France
>
>
>
Paris: these women in luxury real estate who sell to the ultra-rich
Madame Figaro

Paris is still seen as one of the most beautiful cities in the world by the UHNWIs, Ultra High Net Worth Individuals, these men and women whose fortune is estimated at more than 30 million dollars. These ultra-rich, generally owners of several pied-à-terre in the most upscale places on Earth such as Saint-Barths, Geneva or Miami, have unlimited budgets and have two essential needs when they want to buy in the capital: confidentiality and custom-made.
It is in this context that emerge women called personal brokers, these luxury real estate agents who seek for their very wealthy clients properties which look like them and up to their expectations: 16th arrondissement for the great French fortunes, Triangle d'Or for customers from the Middle East, the 6th and 7th arrondissements for Americans… Despite their sometimes excessive and unrealizable dreams (looking for a villa with a garage for several cars and an outdoor swimming pool, for example), they remain less complicated to satisfy than the French. The latter nevertheless made it possible to compensate for the absence of foreign customers during these two years marked by the pandemic. "2021 has been a fabulous year for large transactions", Joanna Jourdes, one of the partners of Paris Ouest Sotheby's International Realty explains, referring to "a 20% increase in the market for ultra-luxury goods, namely goods at more of 4 million euros". For this type of transaction, the commissions received by these luxury brokers are proportional to the amounts of these goods, thus suggesting a 6 or 7 figure remuneration. Nevertheless, our personal brokers keep their feet on the ground and know how to refuse files that could harm them or stand up to sellers who overvalue their property.
Regarding their way of working, these women are used to working in real off market. The majority of their sellers wish to remain anonymous and refuse the distribution of the slightest photo, the slightest plan or the slightest address before the visit of their properties. Buyers can then only trust their personal broker who knows their search by heart and if a property is likely to match them. It is a relationship of trust and loyalty that can lead to other opportunities. Indeed, these prospects do not hesitate to recommend their agent to their relatives or to call on her again for a (re)sale.
Click here to read the whole article
Paris Ouest Sotheby's International Realty, your reference for prestigious real estate in Paris
The latest articles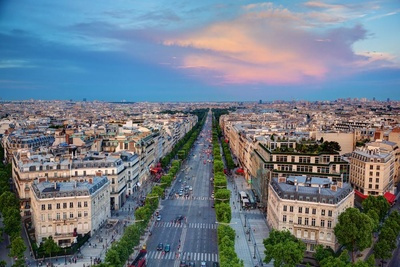 Real estate: real prices in Île-de-France, city by city
Real estate transactions in the Paris Region fell by a significant 25% in the second quarter of 2023, affecting all cities in the region. This trend is marked by an extension of the average property sales time, from just one month in 2022 to three and a half months...
Read more