Contact us
Paris Ouest (Paris 16ème - Victor Hugo)
Sotheby's International Realty
138 Avenue Victor Hugo
75116 PARIS, France
Paris Ouest (Paris 16ème - Auteuil)
Sotheby's International Realty
50 rue d'Auteuil
75016 PARIS, France
Paris Ouest (Paris 17ème - Etoile Monceau)
Sotheby's International Realty
82 Avenue de Wagram
75017 PARIS, France
Paris Ouest (Neuilly-sur-Seine)
Sotheby's International Realty
Place Sainte Foy - 2 Rue de Chézy
92200 NEUILLY, France
Paris Ouest (Hauts-de-Seine - Yvelines)
Sotheby's International Realty
Place Sainte Foy - 2 rue de Chézy
92200 NEUILLY, France
Paris Marais
Sotheby's International Realty
37-39 rue de Turenne
75003 PARIS, France
Paris Est
Sotheby's International Realty
14 rue de Charonne
75011 PARIS, France
>
>
>
The big gap between arrondissements
L'obs

From one arrondissement to another, the market is gaining strength but remains selective. Focus on prices, arrondissement by arrondissement.
Paris Centre: 1st, 2nd, 3rd and 4th arrondissements:
The heart of old Paris has fallen by 2% in one year but it remains the most expensive district on the right bank, with an average of 12,620€/sq. m according to notaries. From the Concorde to the Palais-Royal, most sales concern studios and 2-room apartments. The price varies according to the floor and the state of the property because there are few oportunities there. In Opéra, a 104 sq. m apartement was negotiated for €18,700/sq. m after being on the market for a year, while in Les Halles, where prices are on average lower, a 129 sq. m apartment was sold for 14,600 €/sq. m.
In Le Sentier, prices are stabilizing around 10,000 to 13,500€/sq. m, near Montorgueil in particular.
In the Arts-et-Métiers and Sainte-Avoye districts, a flawless apartment costs around €12,500/sq. m.
In the historic Marais, the market is once again active. The areas most in demand are the Place des Vosges, the area around Rue de Bretagne and the Saint-Paul district, and prices remain at high averages, even if the gaps are widening between very high-end properties and properties without stamp. An apartment with a terrace located on rue du Parc-Royal fetched €29,000/sq. m. Le Marais is in high demand by singles and couples without children, but also by families, often already owners in the area, and who wish to stay there.
On Ile Saint-Louis "the market is around €15,000/sq. m without a view," Margot Royer-Boquillon from Paris Marais Sotheby's International Realty says.
5th, 6th and 7th arrondissements:
Prices are expensive and stable. In the Latin Quarter, prices have increased in one year with an average of €12,730/sq. m. Sales are concentrated on studios and 2-room apartments. The Henri IV sectorization allows to reach 14,000€/sq. m, as for the sector close to the Pantheon, it reaches or even exceeds 18,000€/sq. m.
Luxury real estate in the 6th arrondissement retains its prestige and its position as the most expensive arrondissement in Paris. Small areas sell for around €16,000/sq. m while prestigious properties with an exceptional view can reach €25,000/sq. m. Buyers are mostly French and there are about 20% Americans.
In the 7th arrondissement, the second most expensive district in Paris, prices can sometimes reach €30,000/sq. m. Demand has been on the rise since January, especially from expats looking for a family apartment. The most sought-after areas are around rue Cler, rue de Grenelle and rue Saint-Dominique.
9th, 10th, 11th, 12th arrondissements :
The 9th, much appreciated by wealthy people aged 30-40, is once again successful. But they are very demanding because they want more space, greenery and a large balcony or terrace. The market for family apartments is very tight. A flawless apartment receives an offer at the price from the 1st visit. Given the high prices – from 13,000 to 15,000€/sq. m for neighborhoods like Saint-Georges and rue des Martyrs – there are fewer first-time buyers in their thirties.
In the 10th, selling times are getting longer and prices are falling, even in the most popular districts. There are many offers and fewer requests. On the edge of the 3rd arrondissement and around the Saint-Martin canal, prices fluctuate between 10,000 and 10,500€/sq. m.
Despite its dynamism and attractiveness, prices in the 11th arrondissement are falling. With an average of €10,370/sq. m, the market operates at two speeds: very attractive properties are sold within 48 hours, while apartments in less good condition can remain for sale for several months.
The 12th arrondissement has dropped by €500 in one year. Here again, supply and demand are unbalanced. Around the Aligre market and Bastille, very beautiful properties continue to sell at high prices, unlike classic goods which have lost their value.
13th, 14th and 15th arrondissements:
After a drop of 2.4% in one year, the 13th arrondissement remains at 9240€/sq. m on average. Buyers favor location and surface area. Small apartments are sold easily unlike large areas for which the owners do not want to lower the prices, whether the property has defects or not.
In the 14th, the average price is around €10,060/sq. m. The most favored sectors are around avenue René-Coty or rue Montbrun, sought after for their calm and proximity to Parc Montsouris.
Since April, the market in the 15th district has picked up, although it has fallen below the 10,000€/sq. m mark. The sectors most in demand are those close to the 7th arrondissement and line 6 of the metro. The clientele is mainly made up of small executive families looking to expand or families whose children have left and are looking for smaller apartments.
8th, 16th and 17th arrondissements:
The property market in the 8th arrondissement is doing well and prices have increased slightly. The craze for the Golden Triangle continues. The French clientele, including expatriates returning from Dubai or London, predominates. Near Parc Monceau, where the price is between 13,000 and 15,000€/sq. m on a high floor, buyers exercise liberal professions or work in finance. Prices are lower in the Europe sector, around €12,000/sq. m.
In the 16th, down slightly over 1 year, there are two markets: the very high end and that of investors looking for small areas. Some exceptional properties can reach 30,000€/sq. m but sellers' expectations are not in line with price trends. In Auteuil, the market is animated by a family clientele attentive to the sectorization of schools and very fond of houses.
In the 17th Haussmann, prices are stabilizing. The most popular addresses are those near Parc Monceau, but also Ternes and Pereire, where prices are on average between €12,000 and €14,000/sq. m. Family apartments on high floors and in good condition are in high demand. Les Batignolles and Les Epinettes continue to attract young first-time buyers, unlike the neighborhoods near the "portes" which are suffering from the work to extend the T3.
18th, 19th and 20th arrondissements:
In the 18th, most neighborhoods have seen their prices fall by 1 to 4% over the past year, with the exception of Montmartre and Lamarck-Caulaincourt. Here too the market is at two speeds: the prices of standard properties should continue to fall, while the prices of those on high floors with outdoor space continue to increase.
The 19th arrondissement has broken transaction records in recent years. Although the market is slow and it is the cheapest arrondissement in the capital, the price in the Buttes Chaumont district is 9,200€/sq. m on average for an apartment and 11,000€/sq. m for a house.
In the 20th arrondissement, it is necessary to count 9,500€/sq. m on average for an apartment without major defects and 10500€/sq. m for a house in Gambetta, Pyrénées, Ménilmontant and Jourdain districts. But the market is currently blocked by the shortage of goods and the wait-and-see attitude.
Paris Ouest Sotheby's International Realty, your reference for prestigious real estate in Paris
The latest articles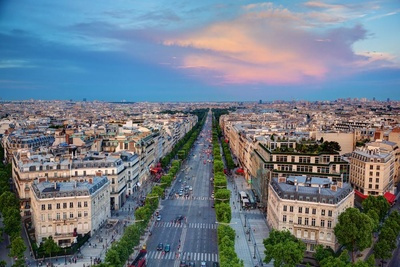 Real estate: real prices in Île-de-France, city by city
Real estate transactions in the Paris Region fell by a significant 25% in the second quarter of 2023, affecting all cities in the region. This trend is marked by an extension of the average property sales time, from just one month in 2022 to three and a half months...
Read more