Contact us
Paris Ouest (Paris 16ème - Victor Hugo)
Sotheby's International Realty
138 Avenue Victor Hugo
75116 PARIS, France
Paris Ouest (Paris 16ème - Auteuil)
Sotheby's International Realty
50 rue d'Auteuil
75016 PARIS, France
Paris Ouest (Paris 17ème - Etoile Monceau)
Sotheby's International Realty
82 Avenue de Wagram
75017 PARIS, France
Paris Ouest (Neuilly-sur-Seine)
Sotheby's International Realty
Place Sainte Foy - 2 Rue de Chézy
92200 NEUILLY, France
Paris Ouest (Hauts-de-Seine - Yvelines)
Sotheby's International Realty
Place Sainte Foy - 2 rue de Chézy
92200 NEUILLY, France
Paris Marais
Sotheby's International Realty
37-39 rue de Turenne
75003 PARIS, France
Paris Est
Sotheby's International Realty
14 rue de Charonne
75011 PARIS, France
>
>
>
Luxury real estate: a market driven by French buyers and houses
My Sweet Immo

In a turbulent macro-economic and geopolitical context, luxury and ultra-luxury real estate has grown by 1.9% over the past twelve months, thus continuing to play its role as a safe haven.
Indeed, 79% of sellers consider that luxury real estate is a safe investment, as do 68% of future buyers. Focus on the latest trends.
House prices are on the rise: since the start of the health crisis, houses have been extremely sought after and prices have jumped by 14.3%. This is due to the fact that buyers want a more pleasant living environment, with more space and an exterior.
"Since the Covid, we have seen a huge attraction for houses, private mansions with gardens or even apartments, duplex-apartments and garden-level apartments. Recently, a house with a garden in Neuilly-sur-Seine, sold at a price of 5,200,000 euros generated 25 visits in 48 hours! In our market, there are more buyers than sellers and these properties are rare. It remains essential to know that when a house, and more generally a property, is at the right price, it only takes a few hours to have an offer. » Frank Sylvaire, Chairman and CEO of Paris Ouest Sotheby's International Realty says.
The Parisian market concentrates 67% of the luxury apartments offered for sale. With an average of €14,462/sq. m, there are differences between arrondissements: the 6th and 7th arrondissements show the highest prices (respectively €15,423 and 18,221/sq. m) while prices are more affordable for prestigious properties in the 10th, 14th and 15th arrondissements, from 11,257 to 12,390€/sq. m.
Regarding the profile of buyers, they are mostly French workers over 50 years old looking for a main residence. Those for whom Parisian prices are too high turn to Hauts-de-Seine where the prices of prestigious apartments are stable, unlike luxury houses.
What about regions?
Côte d'Azur is experiencing a sharp rise in prices with +10.5% over two years for luxury homes.
The trend is even more visible on the Atlantic Coast and Brittany: +28.3% for the first and +29.3% for the second over two years!
Normandy and the Alps are also very popular with buyers looking for exceptional homes.
The latest articles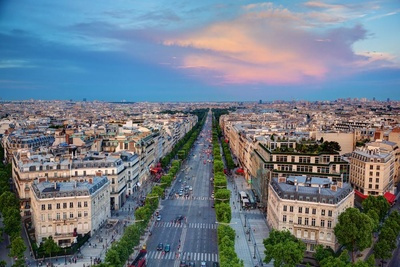 Real estate: real prices in Île-de-France, city by city
Real estate transactions in the Paris Region fell by a significant 25% in the second quarter of 2023, affecting all cities in the region. This trend is marked by an extension of the average property sales time, from just one month in 2022 to three and a half months...
Read more