Contact us
Paris Ouest (Paris 16ème - Victor Hugo)
Sotheby's International Realty
138 Avenue Victor Hugo
75116 PARIS, France
Paris Ouest (Paris 16ème - Auteuil)
Sotheby's International Realty
50 rue d'Auteuil
75016 PARIS, France
Paris Ouest (Paris 17ème - Etoile Monceau)
Sotheby's International Realty
82 Avenue de Wagram
75017 PARIS, France
Paris Ouest (Neuilly-sur-Seine)
Sotheby's International Realty
Place Sainte Foy - 2 Rue de Chézy
92200 NEUILLY, France
Paris Ouest (Hauts-de-Seine - Yvelines)
Sotheby's International Realty
Place Sainte Foy - 2 rue de Chézy
92200 NEUILLY, France
Paris Marais
Sotheby's International Realty
37-39 rue de Turenne
75003 PARIS, France
Paris Est
Sotheby's International Realty
14 rue de Charonne
75011 PARIS, France
>
>
>
Luxury real estate: the French are returning in force to the metropolises
My Sweet Immo

After the enthusiasm for the countryside due to the quarantines, the French and Europeans are once again showing the desire to settle in the large metropolises.
Indeed, "following quarantines, people are now rediscovering the joys of a cultural (exhibitions, theatre, cinema, etc.) and social life in the city," explains Alexander Kraft, President and CEO of Sotheby's International Realty France Monaco. He adds that "the French are looking for housing in the best possible quality; they are looking for more comfort, more greenery, more space, an exterior, a better location, the absence of works…". Foreign buyers are making a comeback. They are mainly Europeans: Brexit expatriates, customers who have gone to Belgium... The Americans are also returning little by little after 2 years of absence. The war in Ukraine, on the other hand, has no impact on the market because Russian customers have been very few since 2014, year of the annexation of Crimea.
The French capital still attracts as much. According to Paulo Fernandes, associate director of Paris Ouest Sotheby's International Realty, "The very beautiful properties are as expensive as before, but apartments with imperfections are the subject of important negotiations". But what are the trends by district?
In the 8th, the market is very dynamic. Prices are stable for exceptional properties. Demand is very strong for reception apartments of more than 200-300 sq. m, with balcony or terrace and nice view. Classic central pied-à-terre, 100 sq. m with two bedrooms, are also in high demand. Foreigners look for a property in the Golden Triangle, families close to Parc Monceau and customers looking for reception apartments go to Faubourg Saint Honoré.
In the 9th, it is above all family apartments that are in demand.
On the left bank, in the 6th and 7th arrondissements, customers are mainly looking for pied-à-terre of around a hundred square meters as well as family apartments of 200-250 sq. m with outdoor space and an unobstructed view.
In le Marais, "prices are rising sharply for "exceptional" properties," explains Margot Royer-Boquillon, director of Paris Marais Sotheby's International Realty.
Regarding French cities, activity is up 16% in Lyon.
In Bouches-du-Rhône and Var, Marseille and its outskirts and the seaside resorts are hugely successful, as can be seen from villa sold for €25,000 per sq. m by the team of Marseille Sotheby's International Realty.
In Bordeaux, prices have increased by 3% over one year but this average does not apply to very beautiful properties.
In Lille, Parisians have arrived en masse to settle both in the city and on the outskirts, wherever the tramway passes.
Read the whole article here.
The latest articles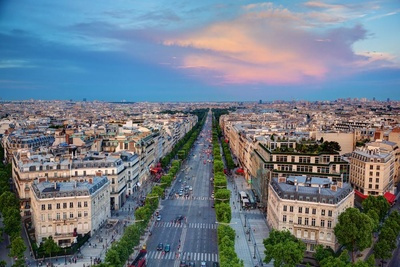 Real estate: real prices in Île-de-France, city by city
Real estate transactions in the Paris Region fell by a significant 25% in the second quarter of 2023, affecting all cities in the region. This trend is marked by an extension of the average property sales time, from just one month in 2022 to three and a half months...
Read more