Contact us
Paris Ouest (Paris 16ème - Victor Hugo)
Sotheby's International Realty
138 Avenue Victor Hugo
75116 PARIS, France
Paris Ouest (Paris 16ème - Auteuil)
Sotheby's International Realty
50 rue d'Auteuil
75016 PARIS, France
Paris Ouest (Paris 17ème - Etoile Monceau)
Sotheby's International Realty
82 Avenue de Wagram
75017 PARIS, France
Paris Ouest (Neuilly-sur-Seine)
Sotheby's International Realty
Place Sainte Foy - 2 Rue de Chézy
92200 NEUILLY, France
Paris Ouest (Hauts-de-Seine - Yvelines)
Sotheby's International Realty
Place Sainte Foy - 2 rue de Chézy
92200 NEUILLY, France
Paris Marais
Sotheby's International Realty
37-39 rue de Turenne
75003 PARIS, France
Paris Est
Sotheby's International Realty
14 rue de Charonne
75011 PARIS, France
>
>
>
Posted on 22/10/2021
Home of the week: This Oceanfront Manse in San Francisco Has Jaw-Dropping Views of the Golden Gate Bridge
RobbReport

Sotheby's San Francisco put ups for sale this four-story mansion which offers the best views of the iconic Golden Gate Bridge, from almost every room in the rear of the house, its rooftop deck and its concrete gazebo.
The house, built in 1915, was designed by San Francisco architect Leo J. Devlin, who lived in the house until his death in 1933. In the early 70s, it was bought by ophthalmologist Dr. Selby Mohr and his wife, who after their deaths passed to their four children who made the decision to sell it.
The location is ideal: it's a favorite of tech industry leaders and well-known celebrities. Predisio park is just two blocks away, the city's downtown is an easy commute and the house has private steps leading down to Baker Beach.
Regarding the house in itself, it has a floor area of 5,930 square feet, an elevator, five bedrooms and many other things to discover. It is perfect for a family!
To read the full article,
click here.
The latest articles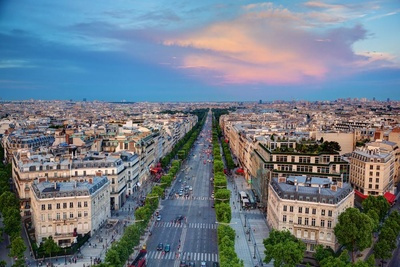 Real estate: real prices in Île-de-France, city by city
Real estate transactions in the Paris Region fell by a significant 25% in the second quarter of 2023, affecting all cities in the region. This trend is marked by an extension of the average property sales time, from just one month in 2022 to three and a half months...
Read more