Contact us
Paris Ouest (Paris 16ème - Victor Hugo)
Sotheby's International Realty
138 Avenue Victor Hugo
75116 PARIS, France
Paris Ouest (Paris 16ème - Auteuil)
Sotheby's International Realty
50 rue d'Auteuil
75016 PARIS, France
Paris Ouest (Paris 17ème - Etoile Monceau)
Sotheby's International Realty
82 Avenue de Wagram
75017 PARIS, France
Paris Ouest (Neuilly-sur-Seine)
Sotheby's International Realty
Place Sainte Foy - 2 Rue de Chézy
92200 NEUILLY, France
Paris Ouest (Hauts-de-Seine - Yvelines)
Sotheby's International Realty
Place Sainte Foy - 2 rue de Chézy
92200 NEUILLY, France
Paris Marais
Sotheby's International Realty
37-39 rue de Turenne
75003 PARIS, France
Paris Est
Sotheby's International Realty
14 rue de Charonne
75011 PARIS, France
>
>
>
Posted on 18/06/2021
Mortgage rates in May 2021: no increase planned!
MY SWEET IMMO

In May 2021, the average rate of credit in the competitive area has stabilized at 1.07%, a very low level, never seen until then. Despite the current uncertainty, the inflation recovery, the regrowth hesitation for the first quarter (GPD going back and household purchasing power lowering) and the increase of risks for some of the borrowers, banks keep improving the access to credit to support the private's demand on mortgage.
Since January, the credit rate went back, no matter the duration to get it. In December 2020, borrowers with the best profiles had a credit decrease much quicker than that of the borrowers, on the longest durations: now they can have an average rate inferior to 1%: with for example, an average rate of 0.77% on 20 years whereas the inflation rhythm in May is 0.66%.
Less visible, the borrowers who didn't have the best profiles also benefits from the decrease. However, they had to increase their personal deposit.
The rates average duration increased since the beginning of Summer 2020. Thus, it allows to absorb the consequences of the increase of inhabitations prices during the crisis of Covid-19. By lighting the conditions of credits asked, banks support real estate market which activity is still low. The credit average duration has never been so high. Concerning only bank loans to access to property, part of the production at more than 25 years is now 0.2%, the lowest level seen for 15 years.
Throughout 2020, the credit demand had to face Covid-19, the reinforcement of the increase of inhabitations prices and the execution of HCSF's recommendation in December 2019. But in March, demand has stood up and the market rebound was confirmed in April. Activity (production and number of credits) increased by 10% in March, then in April. However, as it is very common in May (as there are many bank holidays), demand lowered (-10% in one month), erasing a part of the previous rebound.
But the evolution rhythm year on year succeeds in stabilizing, thanks to the impact of the market dizziness seen in 2020 and the demand bounce last March and last April.
And as on the 1st of July HCSF's recommendations are going to be more and more restrictive for banks, there sure will be a dynamic bounce of the rate market by the end of the year.
Ro read the full article,
click here.
.
Paris West Sotheby's International Realty, expert in
luxury and prestige real estate in Paris
The latest articles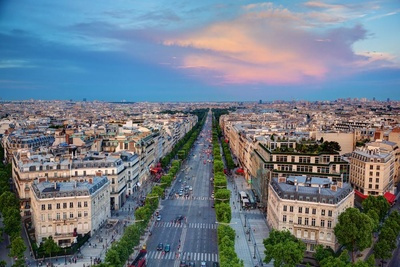 Real estate: real prices in Île-de-France, city by city
Real estate transactions in the Paris Region fell by a significant 25% in the second quarter of 2023, affecting all cities in the region. This trend is marked by an extension of the average property sales time, from just one month in 2022 to three and a half months...
Read more