Contact us
Paris Ouest (Paris 16ème - Victor Hugo)
Sotheby's International Realty
138 Avenue Victor Hugo
75116 PARIS, France
Paris Ouest (Paris 16ème - Auteuil)
Sotheby's International Realty
50 rue d'Auteuil
75016 PARIS, France
Paris Ouest (Paris 17ème - Etoile Monceau)
Sotheby's International Realty
82 Avenue de Wagram
75017 PARIS, France
Paris Ouest (Neuilly-sur-Seine)
Sotheby's International Realty
Place Sainte Foy - 2 Rue de Chézy
92200 NEUILLY, France
Paris Ouest (Hauts-de-Seine - Yvelines)
Sotheby's International Realty
Place Sainte Foy - 2 rue de Chézy
92200 NEUILLY, France
Paris Marais
Sotheby's International Realty
37-39 rue de Turenne
75003 PARIS, France
Paris Est
Sotheby's International Realty
14 rue de Charonne
75011 PARIS, France
>
>
>
Posted on 09/04/2021
The luxury property market persists
LE FIGARO

The market is obviously not affected by the crisis, stone prices remain very high in Neuilly (between 13,000 and 15,000/m2 ), sales are up 128% in the Yvelines, and some Parisian owners are selling their property to enjoy a quieter life in Versailles or Saint-Germain-en-Laye. Indeed, Sophie Cardon, collaborator of Paris Ouest Sotheby's International Realty agency comments "We are seeing more and more buyers selling their large Parisian flat to exchange it for a pied-à-terre, and moving to Versailles or Saint-Germain-en-Laye. They have realised, with the second containment, that the health situation will not improve in the coming months. Telecommuting has been extended for many of them. ". Also, Courbevoie and Le Vésinet are towns where buyer interest is rising.
In fact, properties with outdoor space. This phenomenon is explained by the suffering felt by the French during the first confinement. The confinement has allowed many buyers to realise their need for space. This is reflected in the figures, with properties with gardens or large plots of land seeing a 10% increase in price, while those with a balcony are up by 2 to 3%. Beyond the outdoor space, the interior also counts. Many buyers opt for an extra room or a larger living room. Also the interest in finding an extra room would allow for a working space such as an office.
With the desire for space following the confinement, a desire for financial security has developed. Indeed, due to the health crisis, the financial markets collapsed and it was difficult to find a safe investment. As a result, many investors turned to real estate. Buying real estate is a way to keep your money safe. Also, many cities are seeing their prices rise, which means that you can invest today and later sell for much more than the base price. "We are witnessing a significant gentrification of this area. Before, the properties in this sector suffered from a discount, as in the Jean-Zay district. But the catching up process is underway, and prices are now barely below €10,000 per square metre," says Pierre Sambron, collaborator of Paris Ouest Sotheby's International Realty agency. These notions can be seen in the 6 to 10% price increase in the towns of Saint-Cloud, Boulogne-Billancourt and Levallois-Perret. This increase is also represented in the Yvelines.
To read the full article,
click here.
Paris West Sotheby's International Realty, expert in
luxury and prestige real estate in Paris
The latest articles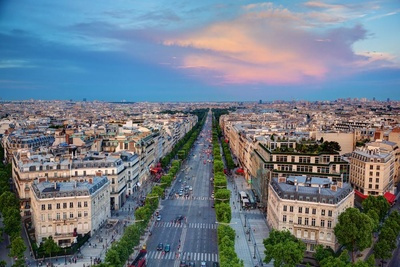 Real estate: real prices in Île-de-France, city by city
Real estate transactions in the Paris Region fell by a significant 25% in the second quarter of 2023, affecting all cities in the region. This trend is marked by an extension of the average property sales time, from just one month in 2022 to three and a half months...
Read more