Contact us
Paris Ouest (Paris 16ème - Victor Hugo)
Sotheby's International Realty
138 Avenue Victor Hugo
75116 PARIS, France
Paris Ouest (Paris 16ème - Auteuil)
Sotheby's International Realty
50 rue d'Auteuil
75016 PARIS, France
Paris Ouest (Paris 17ème - Etoile Monceau)
Sotheby's International Realty
82 Avenue de Wagram
75017 PARIS, France
Paris Ouest (Neuilly-sur-Seine)
Sotheby's International Realty
Place Sainte Foy - 2 Rue de Chézy
92200 NEUILLY, France
Paris Ouest (Hauts-de-Seine - Yvelines)
Sotheby's International Realty
Place Sainte Foy - 2 rue de Chézy
92200 NEUILLY, France
Paris Marais
Sotheby's International Realty
37-39 rue de Turenne
75003 PARIS, France
Paris Est
Sotheby's International Realty
14 rue de Charonne
75011 PARIS, France
>
>
>
Posted on 26/03/2021
Luxury real estate retains its appeal!
PARU VENDU

The Covid crisis and the closing of the borders do not really seem to have negative effects on the figures for prestigious real estate. In fact, the French clientele has helped to maintain sales and avoid a collapse of the sector's figures.
Luxury real estate holds up in times of crisis
The luxury real estate network, Sotheby's International Realty France - Monaco, has seen its turnover increase by 5% over the year 2019. This is an impressive figure at a time of coronavirus crisis. The president of the network, Alexander Kraft underlines his surprise and remains cautious about the future of these figures. However, this situation is represented in other luxury real estate networks, which gives hope for a bright future, as many properties worth more than one million euros continue to be sold.
Limited sales in Paris, a revival of demand in the provinces
The Parisian networks Barnes and Daniel Féau, leaders in the prestige property market, are concerned about a drop in sales and a stagnation in prices. However, this fall remains limited and much less than the fall forecast due to the coronavirus crisis. On the other hand, luxury real estate is very successful in the regions, particularly in sought-after cities such as Deauville or Biarritz. This phenomenon can be explained by a search for a second home where to take refuge in the prospect of a new confinement, which limits the negative effects of a drop in sales in the Paris region.
Exceptional property, a refuge for many
Another reason for the maintenance of sales is linked to the refuge value of property. Indeed, after a fall in the markets, investors are looking for a safe investment. Stone represents security, it is one of the only sectors where prices have not fallen, and are rising when we are not in crisis. Also, experts in these sectors explain that sales are maintained thanks to a desire for space linked to the end of confinement. The French having had to live in their homes day and night for two months, have realised that there is a lack of space. Thus, buyers are looking for more spacious properties with outdoor space such as a balcony.
Luxury real estate: deals closed from a distance
For prestigious properties, some sales are made remotely, simply through photos or virtual visits, sales can be concluded very quickly, even on properties worth several million euros.
To read the full article,
click here.
Paris West Sotheby's International Realty, expert in
luxury and prestige real estate in Paris
The latest articles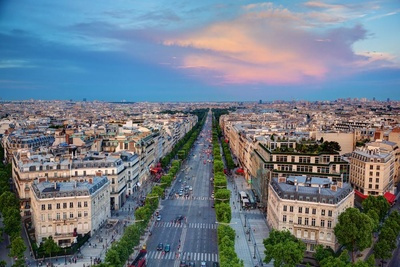 Real estate: real prices in Île-de-France, city by city
Real estate transactions in the Paris Region fell by a significant 25% in the second quarter of 2023, affecting all cities in the region. This trend is marked by an extension of the average property sales time, from just one month in 2022 to three and a half months...
Read more