Contact us
Paris Ouest (Paris 16ème - Victor Hugo)
Sotheby's International Realty
138 Avenue Victor Hugo
75116 PARIS, France
Paris Ouest (Paris 16ème - Auteuil)
Sotheby's International Realty
50 rue d'Auteuil
75016 PARIS, France
Paris Ouest (Paris 17ème - Etoile Monceau)
Sotheby's International Realty
82 Avenue de Wagram
75017 PARIS, France
Paris Ouest (Neuilly-sur-Seine)
Sotheby's International Realty
Place Sainte Foy - 2 Rue de Chézy
92200 NEUILLY, France
Paris Ouest (Hauts-de-Seine - Yvelines)
Sotheby's International Realty
Place Sainte Foy - 2 rue de Chézy
92200 NEUILLY, France
Paris Marais
Sotheby's International Realty
37-39 rue de Turenne
75003 PARIS, France
Paris Est
Sotheby's International Realty
14 rue de Charonne
75011 PARIS, France
>
>
>
Posted on 12/03/2021
Prestige real estate: buyers seek to improve their quality of life and invest in a safe haven
MY SWEET IMMO

"The year 2020, one of the most complicated years since the end of World War II, ended with a very strong boost in activity with a sales volume of €394 million in Q4 alone, a 35% increase over 2019. "Alexander Kraft, Chairman and CEO of Sotheby's International Realty. Surprisingly, 2020 is a year that is reviving prime real estate. Just when you thought that containment would bring down real estate numbers, the search for a better quality of life and a way to secure your money has caused sales to explode.
3 prestige sales every day
Out of 706 sales Over the year 2020, the Sotheby's International Realty France - Monaco network completed 706 prestige sales, an increase of around 10% compared to 2019 (with 645 sales). The average price was €1.29 million, a 17% decrease compared to 2019 which is due to the strong growth in activity in the provinces. As a result, the French agencies achieved a total sales volume of over €1 billion. Alexander Kraft explains, "This sales volume of around €1.06 billion shows that the prestige property market in France has weathered this historic crisis better than ever. "
Growing success of regional markets
Containment, as mentioned earlier, has boosted interest in prestige real estate in the provinces, as the French look for a second home. Teleworking has led to a desire for more space, either by extending the interior or by having an outdoor space.
The 54 agencies in the network have made numerous sales, particularly in the south of France in Provence and the Côte d'Azur, in the ski resorts of Megève and Méribel, and in cities such as Lille and Lyon.
Despite a desire for space and greenery, a dynamic market in Paris
In contrast to 2018 and 2019, Paris was not the most active market in France," says Alexander Kraft. In Neuilly-sur-Seine, eight mansions and houses were sold for an average of €5 million. In addition, sales of high-end properties, ranging from 10 to over 40 million euros, are on the rise. 40 million in Patis and a sale of €20 million in Neuilly-sur-Seine.
In regional markets across France
The South of France was particularly attractive to wealthy clients, with the Côte d'Azur recording a sale of €8 million, a flat sold for €7 million in Biarritz and Corsica recording a sale of €5 million for a beautiful property. In the West, Brittany is also popular, with a château sold for €4 million.
International: same trend worldwide
Sotheby's International Realty is recording very good results worldwide. For example, in New York, city residences are falling in price but suburban residences are rising in price. In Europe, particularly in London, sales are picking up, while Italian clients are looking for a vacation home. A record sale was recorded as the most expensive in history in Colorado for $57.25 million and in Virginia a property sold for $45 million. Finally, the year ended with the sale of producer Susan Sarandon's duplex for $7.9 million.
2021, what prospects?
The year 2020 suggests that prices for properties without exceptional features or with a defect will stagnate or even decline as they did this year. Prices for second homes will remain stable. Alexander Kraft concludes "We have noticed a growing interest from foreign buyers who are enquiring about the Paris market in particular. While a few have completed their purchase after virtual visits, the majority are asking for information about a possible visit when the health situation allows. We hope that 2021 will see the return of foreign buyers among others."
To read the full article,
click here.
Paris West Sotheby's International Realty, expert in
luxury and prestige real estate in Paris
The latest articles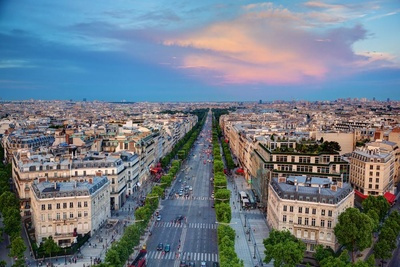 Real estate: real prices in Île-de-France, city by city
Real estate transactions in the Paris Region fell by a significant 25% in the second quarter of 2023, affecting all cities in the region. This trend is marked by an extension of the average property sales time, from just one month in 2022 to three and a half months...
Read more