Contact us
Paris Ouest (Paris 16ème - Victor Hugo)
Sotheby's International Realty
138 Avenue Victor Hugo
75116 PARIS, France
Paris Ouest (Paris 16ème - Auteuil)
Sotheby's International Realty
50 rue d'Auteuil
75016 PARIS, France
Paris Ouest (Paris 17ème - Etoile Monceau)
Sotheby's International Realty
82 Avenue de Wagram
75017 PARIS, France
Paris Ouest (Neuilly-sur-Seine)
Sotheby's International Realty
Place Sainte Foy - 2 Rue de Chézy
92200 NEUILLY, France
Paris Ouest (Hauts-de-Seine - Yvelines)
Sotheby's International Realty
Place Sainte Foy - 2 rue de Chézy
92200 NEUILLY, France
Paris Marais
Sotheby's International Realty
37-39 rue de Turenne
75003 PARIS, France
Paris Est
Sotheby's International Realty
14 rue de Charonne
75011 PARIS, France
>
>
>
Posted on 02/12/2020
The french decorator François Catroux passed away
CONNAISSANCE DES ARTS

Born in 1936 in Mascara, Algeria, he grew up in his native country before setting off to discover the world. Originally a journalist, it was in New York that he discovered a passion for architecture with his friend Philip Johnson, and it was with Charles Savigny in Paris that he developed a taste for interior design.
Very quickly, his style mixing old and modern seduces an international clientele. His style mixing modern and ancient, his chic decorations using claustras to separate spaces, and his choice of materials won over a demanding clientele. He designed interiors for the Rothschild family for example or the Van Zuylen family. Famous houses order his furniture such as the Grands Magasins du Printemps. Also, he made the front page of newspapers from his beginnings in the 60s to the 2000s, including magazines such as "Maison et Jardin" and "AD". His success inspired many artists such as the photographer P. Horst who made portraits of this illustrious figure, David Netto wrote a monograph about him.
For more than fifty years, he was inseparable from his wife Betty. Together, they resided for more than thirty years in what Alexander Kraft, Managing Director of Sotheby's International Realty France-Monaco, calls a "country refuge". Indeed, their property named
Les Ramades
shines with the splendor of its gardens, its architecture made of vaults and original stones. Today, Lourmarin's house is for sale at Sotheby's International Realty.
To read the full article, click
here.
Paris West Sotheby's International Realty, specialist in
luxury and prestige real estate in Paris
The latest articles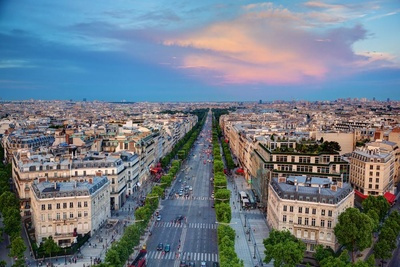 Real estate: real prices in Île-de-France, city by city
Real estate transactions in the Paris Region fell by a significant 25% in the second quarter of 2023, affecting all cities in the region. This trend is marked by an extension of the average property sales time, from just one month in 2022 to three and a half months...
Read more