Contact us
Paris Ouest (Paris 16ème - Victor Hugo)
Sotheby's International Realty
138 Avenue Victor Hugo
75116 PARIS, France
Paris Ouest (Paris 16ème - Auteuil)
Sotheby's International Realty
50 rue d'Auteuil
75016 PARIS, France
Paris Ouest (Paris 17ème - Etoile Monceau)
Sotheby's International Realty
82 Avenue de Wagram
75017 PARIS, France
Paris Ouest (Neuilly-sur-Seine)
Sotheby's International Realty
Place Sainte Foy - 2 Rue de Chézy
92200 NEUILLY, France
Paris Ouest (Hauts-de-Seine - Yvelines)
Sotheby's International Realty
Place Sainte Foy - 2 rue de Chézy
92200 NEUILLY, France
Paris Marais
Sotheby's International Realty
37-39 rue de Turenne
75003 PARIS, France
Paris Est
Sotheby's International Realty
14 rue de Charonne
75011 PARIS, France
>
>
>
Posted on 11/11/2020
Real estate agencies unite to restore the possibilities of visits
FIGARO IMMOBILIER

Indeed, commercial agents have tried to act individually, their profession often putting them against each other, but nothing has been done about it. Thus, they have come together to make a collective appeal. So they wrote a letter, signed by Orpi, Century 21, Nexity, Laforêt, Guy Hoquet, Foncia, L'Adresse, Citya, ERA and Nestenn. Even though they can continue to work in spite of the confinement, they can no longer visit or show properties.
The situation is difficult to bear, prospecting and dialogue between sellers and buyers continue but without being able to conclude. Indeed, although the new technologies allow a wider action, it is difficult for customers to buy an apartment simply by having seen it on their computer. However, a start-up manages to stand out. Flatlooker offers for rent apartments whose visit is entirely available on the Internet, with photos and videos but also virtual tours. The additional advantage is the presence of a complete file, even a description of the brightness or an overview of the surrounding noise, insulation.
Sotheby's International Realty France-Monaco, a network of luxury real estate agencies still manages to maintain positive results. Its CEO, Alexander Kraft, points out that potential buyers have confirmed their desire for the exterior in the second confinement. Thus, the clientele remains present and the deeds of sale are concluded.
However, this is not the ace of all agencies. Henry Buzy-Cazaux, president of the Institute of Real Estate Services Management reminds that many small agencies are closing down. 80% of sales agents have no fixed salary, no unemployment, without work they receive nothing. Faced with this, some professionals break the rules of confinement and show apartments if they are empty. But these freedoms do not really allow them to increase their sales.
To find the full article, click
here.
Paris West Sotheby's International Realty, specialist in
luxury and prestige real estate in Paris
The latest articles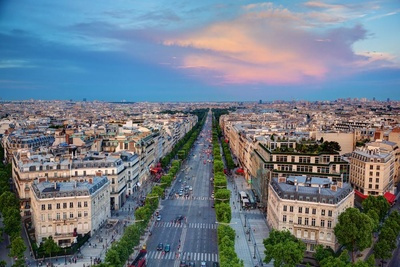 Real estate: real prices in Île-de-France, city by city
Real estate transactions in the Paris Region fell by a significant 25% in the second quarter of 2023, affecting all cities in the region. This trend is marked by an extension of the average property sales time, from just one month in 2022 to three and a half months...
Read more