Contact us
Paris Ouest (Paris 16ème - Victor Hugo)
Sotheby's International Realty
138 Avenue Victor Hugo
75116 PARIS, France
Paris Ouest (Paris 16ème - Auteuil)
Sotheby's International Realty
50 rue d'Auteuil
75016 PARIS, France
Paris Ouest (Paris 17ème - Etoile Monceau)
Sotheby's International Realty
82 Avenue de Wagram
75017 PARIS, France
Paris Ouest (Neuilly-sur-Seine)
Sotheby's International Realty
Place Sainte Foy - 2 Rue de Chézy
92200 NEUILLY, France
Paris Ouest (Hauts-de-Seine - Yvelines)
Sotheby's International Realty
Place Sainte Foy - 2 rue de Chézy
92200 NEUILLY, France
Paris Marais
Sotheby's International Realty
37-39 rue de Turenne
75003 PARIS, France
Paris Est
Sotheby's International Realty
14 rue de Charonne
75011 PARIS, France
>
>
>
Posted on 16/09/2020
The Pied-à-Terre Could Make a Comeback With Buyers Who Want to Maintain Connections to Cities
MANSION GLOBAL

One of the major effects of Covid on real estate is to relieve congestion in cities due to a thirst for the outdoors. Indeed, among large cities such as New York, London or Paris, suburbs are more and more popular. In fact, the coronavirus has led to a flight from the cities, however some are not ready to completely abandon them, so the solution becomes that of pied-à-terre. The latter thus combines the comfort, space and exterior of a suburban property, while maintaining the link with the metropolis thanks to smaller apartments in the heart of the latter. This phenomenon is leading to greater investment in out-of-towns and a reduction in the budget for metropolitan areas, as Stuart Bailey, sales manager at Knight Frank, points out. In addition, telecommuting has developed new ideals for living and a new form of working that allows for greater comfort. The goal is now to work mostly from home, in one's house with a garden or terrace apartment, and to travel to the city from time to time thanks to one's pied-à-terre. This effect is reflected in the 31% drop in the percentage of sales contracts.

The reasons for this search for a pied-à-terre
The pied-à-terre is not a new idea, the population of large cities has already begun to decrease in recent years and this type of property is increasingly sought after. However, we must remain cautious, when offices reopen, not all homes will retain this attraction to the suburbs, making the commute to work longer. Also, many buyers are quickly regretting this urban exodus and are reconsidering their decision. Nevertheless, the attraction for the pied-à-terre is also to be able to vary one's workdays, at the office or at home, to spend more time with the family while maintaining proximity to one's workplace when needed. This phenomenon can only be observed on citizens and not on foreign buyers. Indeed, the latter prefer to stay in the city. In Paris, it is not a pied-à-terre that is sought after but a property with more space, and there is a search for townhouses or apartments with terraces. Virginie de Saint Léger, a member of the Paris Ouest Sotheby's International Realty team, points out that many properties are for sale but few buyers. Customers are looking for homes with outdoor spaces that promote privacy.

Information to be known before buying a pied-à-terre
The disadvantages of buying a pied-à-terre depend on the cities where they are located, for example, New York is considering taxing second homes, which could reduce the number of buyers, in Paris, the mortgage for a pied-à-terre is difficult to access. Also, the negotiations are more or less simple, with a realistic price, the owners do not negotiate, while if the price is reasonable one can negotiate from 3 to 5%.

Find the entire article here.

Paris Ouest Sotheby's International Realty, your specialist in luxury real estate in Paris.
The latest articles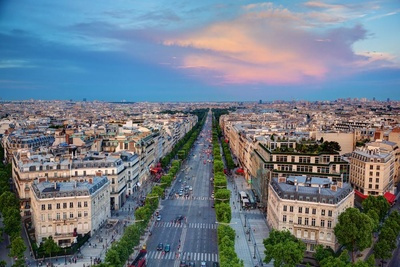 Real estate: real prices in Île-de-France, city by city
Real estate transactions in the Paris Region fell by a significant 25% in the second quarter of 2023, affecting all cities in the region. This trend is marked by an extension of the average property sales time, from just one month in 2022 to three and a half months...
Read more