Contact us
Paris Ouest (Paris 16ème - Victor Hugo)
Sotheby's International Realty
138 Avenue Victor Hugo
75116 PARIS, France
Paris Ouest (Paris 16ème - Auteuil)
Sotheby's International Realty
50 rue d'Auteuil
75016 PARIS, France
Paris Ouest (Paris 17ème - Etoile Monceau)
Sotheby's International Realty
82 Avenue de Wagram
75017 PARIS, France
Paris Ouest (Neuilly-sur-Seine)
Sotheby's International Realty
Place Sainte Foy - 2 Rue de Chézy
92200 NEUILLY, France
Paris Ouest (Hauts-de-Seine - Yvelines)
Sotheby's International Realty
Place Sainte Foy - 2 rue de Chézy
92200 NEUILLY, France
Paris Marais
Sotheby's International Realty
37-39 rue de Turenne
75003 PARIS, France
Paris Est
Sotheby's International Realty
14 rue de Charonne
75011 PARIS, France
>
>
>
Posted on 28/07/2020
The coronavirus crisis has not affected the luxury real estate market
SE LOGER

Prestigious properties are defined by a highly sought-after location, dream assets such as an exceptional view, its rarity and its cost. In fact, according to the Belles Demeures barometer,
luxury Parisian properties
cost around 15,400 euros per square meter, while chic suburban properties such as Neuilly or Boulogne Billancourt see their price per square meter rise to 13,460 euros. In general, the Hauts-de-Seine region approaches 10,500 euros per square meter, while the Yvelines region offers luxury goods at 6,310 euros per square meter. Also, prices rise by around 14% in Hauts-de-Seine.
Luxury real estate in France
In France, several regions attract people for their luxury goods. The prestige real estate price barometer of Belles Demeures places Île-de-France in the lead with 54% of visits to their site, then the PACA region takes second place with the Côte d'Azur, before finishing with the Rhône Alpes region, notably Provence. However, after the confinement, the Aquitaine region takes the place of the latter.
Buyers' hopes at odds with reality
In June, forecasts predicted a fall in the luxury property market, with only 10% expecting prices to rise. However, forecasts and reality do not match up, luxury goods are indeed seeing their prices skyrocket, despite the situation that suggested a decline in this market. By way of comparison, last year when we were in financial conditions, 27% believed that prices would rise.

The coronavirus crisis has given a new impetus to the "certainty of purchase"
Confinement has also made it possible to confirm potential buyers in their choice, thus validating the theory of the psychological factor in the purchase of a property. In fact, Belles Demeures shows that, following the deconfinement, 40% of individuals felt that it was the ideal time to proceed with the purchase of a property, while 79% announced that they were confident that their project would be completed very soon.

French luxury goods among foreigners
Finally, France continues to attract foreign buyers who present it as the representation of wealth through its heritage endowment in terms of fashion, culture, gastronomy and architecture.

Find the full article by clicking here.
The latest articles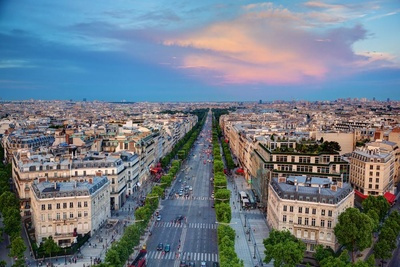 Real estate: real prices in Île-de-France, city by city
Real estate transactions in the Paris Region fell by a significant 25% in the second quarter of 2023, affecting all cities in the region. This trend is marked by an extension of the average property sales time, from just one month in 2022 to three and a half months...
Read more