Contact us
Paris Ouest (Paris 16ème - Victor Hugo)
Sotheby's International Realty
138 Avenue Victor Hugo
75116 PARIS, France
Paris Ouest (Paris 16ème - Auteuil)
Sotheby's International Realty
50 rue d'Auteuil
75016 PARIS, France
Paris Ouest (Paris 17ème - Etoile Monceau)
Sotheby's International Realty
82 Avenue de Wagram
75017 PARIS, France
Paris Ouest (Neuilly-sur-Seine)
Sotheby's International Realty
Place Sainte Foy - 2 Rue de Chézy
92200 NEUILLY, France
Paris Ouest (Hauts-de-Seine - Yvelines)
Sotheby's International Realty
Place Sainte Foy - 2 rue de Chézy
92200 NEUILLY, France
Paris Marais
Sotheby's International Realty
37-39 rue de Turenne
75003 PARIS, France
Paris Est
Sotheby's International Realty
14 rue de Charonne
75011 PARIS, France
>
>
>
Leafy and Regal: The Many Faces Of Green
RESIDE MAGAZINE

Signifying
prosperity
,
growth
, and a
connection to nature
, g
reen is having a design moment
. Whether it's time for a full revamp, or a mere spruce up, take note of these four exemplary luxury homes that have taken innovative approaches to integrating
shades of green
.
A
five-bedroom house in Cape Town
with a teal kitchen found a perfect balance between the
wood
finishes
, the azure living room, and
shades of greens and blue
.
Incorporating shades doesn't always have to involve paint. Why not turning the indoors into a leafy oasis, as in this
eight-bedroom Los Angeles estate
? Juxtaposed by immaculate neutral design and a white color scheme, plants and towering trees take root in the foyer and living spaces.
Deep forest green shutters line the exterior and interior courtyard of a majestic 20-room Spanish mansion.
In an
incredible four-bedroom penthouse on the Upper East Side
with 2,000 square feet of outdoor space, a diversity of greens has been used in touches. For example, in one of the bedrooms, the walls were painted mint green. Green can therefore be used creatively to make a home even more
captivating
and
welcoming
, and thus have more impact.
To consult the full article, click
here.
The latest articles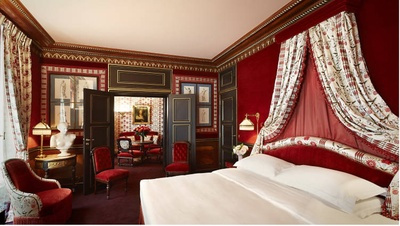 Costes Hotel
This hotel is made up of 3 houses, each with its own incredible rooms, from "mini" to double duplex. Place Vendôme, the Tuileries Gardens, luxury boutiques and chic restaurants are just a stone's throw away. The hotel also offers extensive services: a restaurant,...
Read more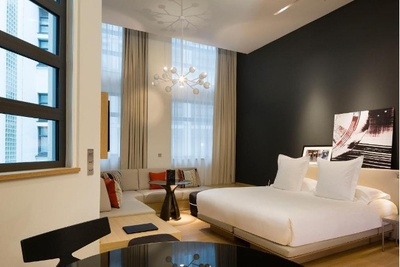 Hôtel Le Cinq Codet
Just a 5-minute walk from the Hôtel des Invalides, the 5-star Le Cinq Codet offers a host of exceptionally spacious rooms and suites. Each room features a different work of art. The 1930s building, a former telephone exchange, is rare and surprising. Many museums...
Read more