Contact us
Paris Ouest (Paris 16ème - Victor Hugo)
Sotheby's International Realty
138 Avenue Victor Hugo
75116 PARIS, France
Paris Ouest (Paris 16ème - Auteuil)
Sotheby's International Realty
50 rue d'Auteuil
75016 PARIS, France
Paris Ouest (Paris 17ème - Etoile Monceau)
Sotheby's International Realty
82 Avenue de Wagram
75017 PARIS, France
Paris Ouest (Neuilly-sur-Seine)
Sotheby's International Realty
Place Sainte Foy - 2 Rue de Chézy
92200 NEUILLY, France
Paris Ouest (Hauts-de-Seine - Yvelines)
Sotheby's International Realty
Place Sainte Foy - 2 rue de Chézy
92200 NEUILLY, France
Paris Marais
Sotheby's International Realty
37-39 rue de Turenne
75003 PARIS, France
Paris Est
Sotheby's International Realty
14 rue de Charonne
75011 PARIS, France
>
>
>
" La Samaritaine "
After a wait of 16 years, la Samaritaine officially opens again its doors

It was one of the most awaited architectural events of the year. La Samaritaine, iconic department store of the capital closed since 2005 because of deterioration, has finally opened again 23 June. With a budget of 500 million euros, LVMH company, which bought back the store in 2001, appealed to the Japanese architect's office SANAA (winner of the Pritzker price in 2010) and Jean-François Lagneau, architect of Historical Monuments, to renovate this spectacular place.
What shall we expect? First of all, the opening of a 5-star hotel, le Cheval Blanc, comprising 72 bedrooms, a 30-m long pool and a terrace. Offices, nursery, 96 social housings and of course luxury boutiques and brands are included.
Regarding the inside, all the Art Deco and Art Nouveau elements have been entirely renovated: the staircase, the wrought iron floral mosaic balustrades, the frescos decorated with peacocks…
When it comes to the serpentine translucent frontage, made up with bulging glass leaves fixed invisibly, it gives an amazing feeling of fluidity thanks to the opposite Haussmann-style buildings which reflect in it.
To discover this wonderful place,
click here.
The latest articles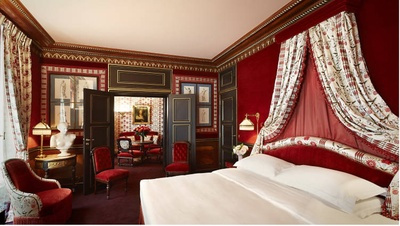 Costes Hotel
This hotel is made up of 3 houses, each with its own incredible rooms, from "mini" to double duplex. Place Vendôme, the Tuileries Gardens, luxury boutiques and chic restaurants are just a stone's throw away. The hotel also offers extensive services: a restaurant,...
Read more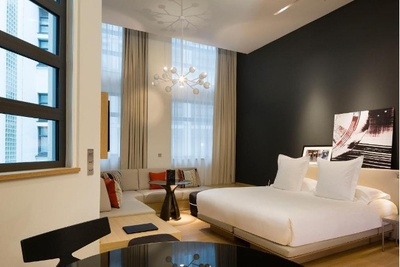 Hôtel Le Cinq Codet
Just a 5-minute walk from the Hôtel des Invalides, the 5-star Le Cinq Codet offers a host of exceptionally spacious rooms and suites. Each room features a different work of art. The 1930s building, a former telephone exchange, is rare and surprising. Many museums...
Read more