Contact us
Paris Ouest (Paris 16ème - Victor Hugo)
Sotheby's International Realty
138 Avenue Victor Hugo
75116 PARIS, France
Paris Ouest (Paris 16ème - Auteuil)
Sotheby's International Realty
50 rue d'Auteuil
75016 PARIS, France
Paris Ouest (Paris 17ème - Etoile Monceau)
Sotheby's International Realty
82 Avenue de Wagram
75017 PARIS, France
Paris Ouest (Neuilly-sur-Seine)
Sotheby's International Realty
Place Sainte Foy - 2 Rue de Chézy
92200 NEUILLY, France
Paris Ouest (Hauts-de-Seine - Yvelines)
Sotheby's International Realty
Place Sainte Foy - 2 rue de Chézy
92200 NEUILLY, France
Paris Marais
Sotheby's International Realty
37-39 rue de Turenne
75003 PARIS, France
Paris Est
Sotheby's International Realty
14 rue de Charonne
75011 PARIS, France
>
>
>
Posted on 15/01/2020
Paris real estate : a free-for-all

The frenzied race for "precious stone" in the capital continues. Demand
is very strong and, by the end of 2018, prices in Paris will have
approached 10,000€/sqm.
Four districts (the 4 th , 7th, 16th and 18 th ) have seen an increase of 10% in
just one year. Assets at the right price are snapped up, while those at
higher prices take a little more time to find a buyer. Analysis showed that
18.5% of period Parisian properties were sold in less than 7 days, and
about 23% in 8 days to a month.
The supply of assets for sale is limited, pushing prices up. As a result
buyers are prepared to move a little further to the east of the capital,
and the Bastille and Gare de Lyon neighbourhoods have seen prices go
up. In the 18th district prices have rocketed; a beautiful apartment
benefiting from views is now trading at around 11500€/sqm in the
sought-after Abbesses neighbourhood, for example.
This context is particularly favourable to sellers who now hold the
strings, especially as buyers are tempted to quickly snap up what they
consider to be a "good deal"
Click here to read the article.
Paris Ouest Sotheby's International Realty, your expert in luxury real estate in Paris
The latest articles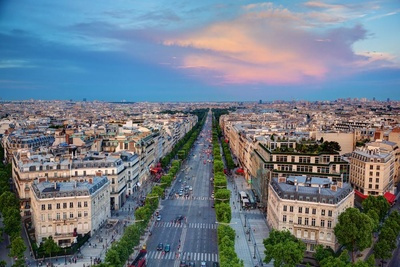 Real estate: real prices in Île-de-France, city by city
Real estate transactions in the Paris Region fell by a significant 25% in the second quarter of 2023, affecting all cities in the region. This trend is marked by an extension of the average property sales time, from just one month in 2022 to three and a half months...
Read more