Contact us
Paris Ouest (Paris 16ème - Victor Hugo)
Sotheby's International Realty
138 Avenue Victor Hugo
75116 PARIS, France
Paris Ouest (Paris 16ème - Auteuil)
Sotheby's International Realty
50 rue d'Auteuil
75016 PARIS, France
Paris Ouest (Paris 17ème - Etoile Monceau)
Sotheby's International Realty
82 Avenue de Wagram
75017 PARIS, France
Paris Ouest (Neuilly-sur-Seine)
Sotheby's International Realty
Place Sainte Foy - 2 Rue de Chézy
92200 NEUILLY, France
Paris Ouest (Hauts-de-Seine - Yvelines)
Sotheby's International Realty
Place Sainte Foy - 2 rue de Chézy
92200 NEUILLY, France
Paris Marais
Sotheby's International Realty
37-39 rue de Turenne
75003 PARIS, France
Paris Est
Sotheby's International Realty
14 rue de Charonne
75011 PARIS, France
>
>
>
Seasonal rental: a market boosted by the end of Covid restrictions and the return of foreigners
My Sweet Immo

In the areas where Sotheby's International Realty France-Monaco has seasonal rentals offers, interest is still just as strong for top-of-the-range properties, whether on the Côte d'Azur, in the mountains, in Provence or even in Corsica. "For many of our clients, it is a question of enjoying a gentler life for the duration of a more or less long parenthesis. For others, to test a different way of life before buying," Alexander Kraft, CEO of Sotheby's International Realty France-Monaco says. This trend echoes the growing success of second homes with exteriors since the Covid crisis. Indeed, those who do not have a secondary residence take advantage of these houses with outdoors, while those who plan to acquire one try their hand at this life and others test their possible future main residence.
On the shores of the English Channel, many families are looking for a rental during the summer holidays and long weekends, in particular villas with swimming pools. They are French, Belgians, Dutch, Swiss, and English. It takes an average of €7,200 per week for a 300 sq. m triplex near the beach and the town centre.
In Brittany, supply and demand have continued to increase since the health crisis. The properties offered are of very different styles but all have in common to offer impeccable services.
In Provence, rentals are reserved at the beginning of the year or even from one year to the next. The clients are mainly French and they are mainly looking for 4 or 5-bedroom houses with a swimming pool and beautiful grounds, priced around 5,000€ per week.
On the Côte d'Azur, European customers are making a comeback. People generally rent for a week properties with 5 bedrooms, swimming pool, fully equipped and close to Cannes. Prices are between €10,000 and €15,000 per week.
In the Gard, it is mainly properties with large spaces that are requested by French customers. More and more clients are requesting related services such as babysitting, a chef and/or house staff.
Corsica is a destination in high demand by the French and by foreign customers who are growing strongly. Reservations were stopped at the time of the presidential elections but a 20% increase compared to 2021 should be recorded. A new trend has emerged: the explosion of concierge services associated with vacation rentals. The price range is between 20,000 and 40,000€ per week.
Finally, in the French Alps, the market is extremely dynamic. Since the Covid, demand has exploded, winter and summer. Tenants are very fond of properties connected to the ski slopes, villages, activities that do not require taking the car: chalet with swimming pool, jacuzzi, cinema, etc. Depending on the resort, the season, the altitude, the services and the duration, the rental price varies.
Paris Ouest Sotheby's International Realty, your reference for prestigious real estate in Paris
The latest articles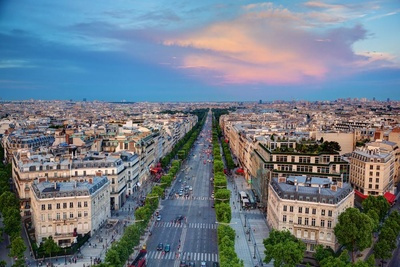 Real estate: real prices in Île-de-France, city by city
Real estate transactions in the Paris Region fell by a significant 25% in the second quarter of 2023, affecting all cities in the region. This trend is marked by an extension of the average property sales time, from just one month in 2022 to three and a half months...
Read more