Contact us
Paris Ouest (Paris 16ème - Victor Hugo)
Sotheby's International Realty
138 Avenue Victor Hugo
75116 PARIS, France
Paris Ouest (Paris 16ème - Auteuil)
Sotheby's International Realty
50 rue d'Auteuil
75016 PARIS, France
Paris Ouest (Paris 17ème - Etoile Monceau)
Sotheby's International Realty
82 Avenue de Wagram
75017 PARIS, France
Paris Ouest (Neuilly-sur-Seine)
Sotheby's International Realty
Place Sainte Foy - 2 Rue de Chézy
92200 NEUILLY, France
Paris Ouest (Hauts-de-Seine - Yvelines)
Sotheby's International Realty
Place Sainte Foy - 2 rue de Chézy
92200 NEUILLY, France
Paris Marais
Sotheby's International Realty
37-39 rue de Turenne
75003 PARIS, France
Paris Est
Sotheby's International Realty
14 rue de Charonne
75011 PARIS, France
>
>
>
Real estate : the 3 new trends of the country house
Les Echos

The repeated confinements and the resulting desire for nature and green spaces have profoundly changed the behavior of the French. Indeed, their desire to find a balance between personal and professional life has resulted in reviving and transforming the secondary residence market, both by the sea and in the mountains and countryside. But who are the buyers? What kind of property do they buy and at what price?
The market for country houses
If the country house market has been shunned for a long time, it is once again arousing interest. The younger generations who until now preferred to spend their weekends and their holidays abroad in Airbnb type accommodation rather than in properties in the countryside "in their original state", are now turning to this type of property which matches with their desire of greenery.
Rising Market Prices for Country Houses
The craze for secondary residence has the effect of pushing prices up. Bénédicte Marchal, director of Biarritz Sotheby's International Realty agency, notes that prices have increased by 20 to 30% since Covid, including for properties that are not by the sea. Same observation in the Lyon region where "prices tend to soar, particularly in the area of the 'golden stone' villages of Beaujolais, Brionnais and Burgundy," explains Sophie Aknine, head of Lyon Sotheby's International Realty.
Country houses: an increasingly conccurential market
Despite the health and geopolitical context, demand remains strong, unlike supply. The Sotheby's International Realty agency in Le Touquet deplores "an increasingly penalizing shortage of goods with very strong demand and an increasingly limited supply. Good deals are almost non-existent, you have to buy at market price" whether it is a property by the sea or inland. "To do good business in 2022, Realty, buyers will have to be very reactive to be the first to visit and position themselves" recommends Pascal Danneau, director of Provence Luberon Sotheby's International Realty.
Alexander Kraft, CEO of Sotheby's International Realty France – Monaco, notices that "People who invest in a second home have the common point of wanting to make it a setting for themselves and their loved ones while allowing a good balance between their professional and personal life. However, they do not wish to leave their hometown and their main residence; they are also there in search of a balance between their life before and their life in the green. »
According to Sotheby's International Realty France-Monaco, buyers of secondary residences are 30-somethings or 40-somethings who have experienced Erasmus, low-cost travel and online rentals. They favor ready for use properties that have already been renovated and fitted out. Alexander Kraft adds that "for the first time we notice that new technologies such as reversible heating or solar elements that save energy and protect the planet have become important factors. Traditionally this didn't have much of an impact on the prestige market but it is increasingly being incorporated during renovations and is becoming increasingly important with this new generation of buyers. »
Click here to read the article
The latest articles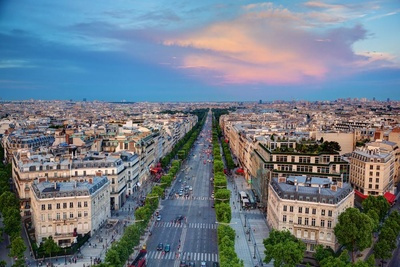 Real estate: real prices in Île-de-France, city by city
Real estate transactions in the Paris Region fell by a significant 25% in the second quarter of 2023, affecting all cities in the region. This trend is marked by an extension of the average property sales time, from just one month in 2022 to three and a half months...
Read more