Contact us
Paris Ouest (Paris 16ème - Victor Hugo)
Sotheby's International Realty
138 Avenue Victor Hugo
75116 PARIS, France
Paris Ouest (Paris 16ème - Auteuil)
Sotheby's International Realty
50 rue d'Auteuil
75016 PARIS, France
Paris Ouest (Paris 17ème - Etoile Monceau)
Sotheby's International Realty
82 Avenue de Wagram
75017 PARIS, France
Paris Ouest (Neuilly-sur-Seine)
Sotheby's International Realty
Place Sainte Foy - 2 Rue de Chézy
92200 NEUILLY, France
Paris Ouest (Hauts-de-Seine - Yvelines)
Sotheby's International Realty
Place Sainte Foy - 2 rue de Chézy
92200 NEUILLY, France
Paris Marais
Sotheby's International Realty
37-39 rue de Turenne
75003 PARIS, France
Paris Est
Sotheby's International Realty
14 rue de Charonne
75011 PARIS, France
>
>
>
Luxury real estate: who keeps buying in Paris and what kind of property?
BFM TV

Between 2013 and 2018, more than 54,000 Parisians have chosen to leave the capital city. These departures have been a bargain for luxury real estate which after a period in slow-motion recovered during the third trimester of 2021, particularly in the field of prestige real estate. But this dynamism is at two speeds.

Indeed, on one hand, you can find flawless properties which are sold at a very expensive price, and on the other hand, "classic" properties which take more time to be sold and can be negotiated. "Our Parisian offices have achieved very nice sales, with high budgets, with French people and foreigners. Type of properties and surface areas don't lack. On the whole, a property displayed at the real price is sold easily" Alexander Kraft, CEO of Sotheby's International Realty France-Monaco says. Foreign buyers are not lacking. On the sales achieved between January and September 2021, 2.8% were achieved by Chinese, 3% by Italians and 1.7% by Americans. Regarding the kind of properties wanted by the buyers, millenials highly look for small surfaces, but generally, properties with exteriors such as garden or terrace are the most sought-after. An unobstructed view of a monument is a very sought-after criteria by the wealthiest buyers. On the contrary, dark properties without exterior have difficulties to find a buyer…
The latest articles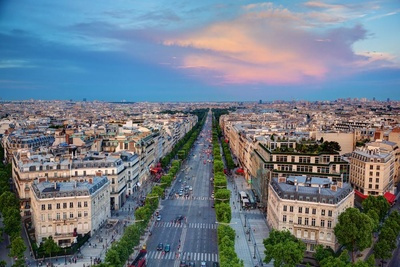 Real estate: real prices in Île-de-France, city by city
Real estate transactions in the Paris Region fell by a significant 25% in the second quarter of 2023, affecting all cities in the region. This trend is marked by an extension of the average property sales time, from just one month in 2022 to three and a half months...
Read more