Contact us
Paris Ouest (Paris 16ème - Victor Hugo)
Sotheby's International Realty
138 Avenue Victor Hugo
75116 PARIS, France
Paris Ouest (Paris 16ème - Auteuil)
Sotheby's International Realty
50 rue d'Auteuil
75016 PARIS, France
Paris Ouest (Paris 17ème - Etoile Monceau)
Sotheby's International Realty
82 Avenue de Wagram
75017 PARIS, France
Paris Ouest (Neuilly-sur-Seine)
Sotheby's International Realty
Place Sainte Foy - 2 Rue de Chézy
92200 NEUILLY, France
Paris Ouest (Hauts-de-Seine - Yvelines)
Sotheby's International Realty
Place Sainte Foy - 2 rue de Chézy
92200 NEUILLY, France
Paris Marais
Sotheby's International Realty
37-39 rue de Turenne
75003 PARIS, France
Paris Est
Sotheby's International Realty
14 rue de Charonne
75011 PARIS, France
>
>
>
Posted on 23/09/2021
Olivier Sarkozy's private mansion in New York
LE FIGARO IMMOBILIER

In April 2014, the couple Olivier Sarkozy-Mary-Kate Olsen purchased a house from 1920 in the district of Turtle Bay in Manhattan for $13.5 millions so €11.4 millions. This double city house of almost 800 sq. m with garden, bought to David Deutsh, is a real oasis of greenery flooded with sunlight. From November 2015, the couple launched themselves into a titanic project of renovation. But it will never be achieved, as the couple's divorce has been pronounced in January.
Therefore, the property has been put on the market for $11.5 millions (€9.75 millions) by Sotheby's International Realty. A drop in value due to unfinished works and the fact that the house cannot be inhabited.
The rooms are bare, many walls have been knocked down but the old specific elements have been kept, as the two fireplaces, the coffered ceiling and its 7 meters of height in the living room.
For buyers interested in this exceptional private mansion, it is worth noting that the annual "property tax" comes to more than $101,870, that is to say €86,315.
To read the full article,
Olivier Sarkozy's private mansion in New York
.
The latest articles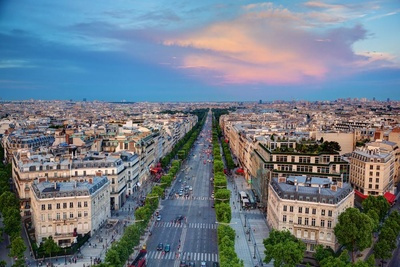 Real estate: real prices in Île-de-France, city by city
Real estate transactions in the Paris Region fell by a significant 25% in the second quarter of 2023, affecting all cities in the region. This trend is marked by an extension of the average property sales time, from just one month in 2022 to three and a half months...
Read more