Contact us
Paris Ouest (Paris 16ème - Victor Hugo)
Sotheby's International Realty
138 Avenue Victor Hugo
75116 PARIS, France
Paris Ouest (Paris 16ème - Auteuil)
Sotheby's International Realty
50 rue d'Auteuil
75016 PARIS, France
Paris Ouest (Paris 17ème - Etoile Monceau)
Sotheby's International Realty
82 Avenue de Wagram
75017 PARIS, France
Paris Ouest (Neuilly-sur-Seine)
Sotheby's International Realty
Place Sainte Foy - 2 Rue de Chézy
92200 NEUILLY, France
Paris Ouest (Hauts-de-Seine - Yvelines)
Sotheby's International Realty
Place Sainte Foy - 2 rue de Chézy
92200 NEUILLY, France
Paris Marais
Sotheby's International Realty
37-39 rue de Turenne
75003 PARIS, France
Paris Est
Sotheby's International Realty
14 rue de Charonne
75011 PARIS, France
>
>
>
Posted on 20/08/2021
French luxury real estate: big winner of this pandemic
MON IMMEUBLE

Despite Covid-19, French prestige real estate isn't going through crisis. Indeed, prices are stable contrary to the traditional residential market in which the soaring prices generalize. According to a study by Belles Demeures website, prestige real estate is devoted to trust and optimism. 48% of the buyers think that the economic situation in France is going to recover in the six following months. It appears that it's the ideal time to buy a luxury property in France, as it's a safe bet regarding investment.
Ile-de-France is the most liked region, even if researches for Parisian region have been slowing for a year. Some areas gain power because buyers want to change their life. Thereby Aquitaine and Britany have tripled their volume of online research. However, there is a gap between offers and requests. Indeed, 67% of the sellers think that it's the ideal time for buying whereas 59% of the buyers don't think so. This might increase prices.
Regarding foreign buyers, their return has been noticed. Didier Fagnen, CEO of national operations at Sotheby's International Realty France explains that "The first quarter of 2021 has been the strongest in 20 years with more than 400 million sold. The second quarter will probably be as promising with similar numbers. Even if French buyers might not be as present after Summer, foreign buyers will take the reins as soon as travelling will be possible again."
To read the full article,
click here.
Paris Ouest Sotheby's International Realty, expert in
luxury and prestige real estate in Paris
The latest articles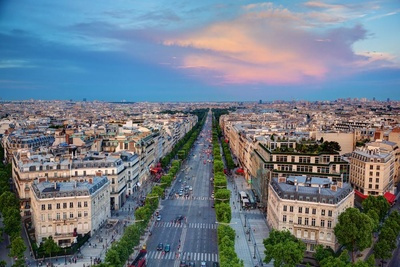 Real estate: real prices in Île-de-France, city by city
Real estate transactions in the Paris Region fell by a significant 25% in the second quarter of 2023, affecting all cities in the region. This trend is marked by an extension of the average property sales time, from just one month in 2022 to three and a half months...
Read more