Contact us
Paris Ouest (Paris 16ème - Victor Hugo)
Sotheby's International Realty
138 Avenue Victor Hugo
75116 PARIS, France
Paris Ouest (Paris 16ème - Auteuil)
Sotheby's International Realty
50 rue d'Auteuil
75016 PARIS, France
Paris Ouest (Paris 17ème - Etoile Monceau)
Sotheby's International Realty
82 Avenue de Wagram
75017 PARIS, France
Paris Ouest (Neuilly-sur-Seine)
Sotheby's International Realty
Place Sainte Foy - 2 Rue de Chézy
92200 NEUILLY, France
Paris Ouest (Hauts-de-Seine - Yvelines)
Sotheby's International Realty
Place Sainte Foy - 2 rue de Chézy
92200 NEUILLY, France
Paris Marais
Sotheby's International Realty
37-39 rue de Turenne
75003 PARIS, France
Paris Est
Sotheby's International Realty
14 rue de Charonne
75011 PARIS, France
>
>
>
Posted on 04/06/2021
Paris 5th: the atmosphere of Quartier Latin
BELLES DEMEURES

The oldest area of the capital shelters the most prestigious luxury apartments of the 5th arrondissement. Located on the left bank, it is named that way because of the numerous students who studied Latin there. Renowned schools (lycées Louis-le-Grand and Henri IV, Sorbonne University) and historical monuments (Panthéon, musée de Cluny) are among restaurants, designer shops and small arthouse cinemas, giving Quartier Latin a typical atmosphere prized by the buyers.
Click here
to read the whole article and discover a sole agent property sold by Sotheby's Realty.
Paris West Sotheby's International Realty, expert in
luxury and prestige real estate in Paris
The latest articles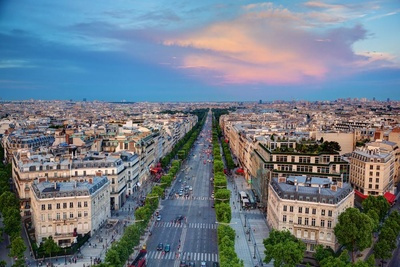 Real estate: real prices in Île-de-France, city by city
Real estate transactions in the Paris Region fell by a significant 25% in the second quarter of 2023, affecting all cities in the region. This trend is marked by an extension of the average property sales time, from just one month in 2022 to three and a half months...
Read more