Contact us
Paris Ouest (Paris 16ème - Victor Hugo)
Sotheby's International Realty
138 Avenue Victor Hugo
75116 PARIS, France
Paris Ouest (Paris 16ème - Auteuil)
Sotheby's International Realty
50 rue d'Auteuil
75016 PARIS, France
Paris Ouest (Paris 17ème - Etoile Monceau)
Sotheby's International Realty
82 Avenue de Wagram
75017 PARIS, France
Paris Ouest (Neuilly-sur-Seine)
Sotheby's International Realty
Place Sainte Foy - 2 Rue de Chézy
92200 NEUILLY, France
Paris Ouest (Hauts-de-Seine - Yvelines)
Sotheby's International Realty
Place Sainte Foy - 2 rue de Chézy
92200 NEUILLY, France
Paris Marais
Sotheby's International Realty
37-39 rue de Turenne
75003 PARIS, France
Paris Est
Sotheby's International Realty
14 rue de Charonne
75011 PARIS, France
>
>
>
Posted on 23/04/2021
Haussmannian apartments in the 3rd district, in Paris, are very popular!
BELLES DEMEURES

THE 3RD ARRONDISSEMENT, THE CULTURAL MELTING POT In the third arrondissement, you will find exceptional properties, full of history due to their Haussmannian architecture but also very lively due to the district in which it resides. Indeed, this district is very animated by the many restaurants and shops which compose it. Here, fashion lovers run through the streets, from the Place de la République to the Centre Pompidou to find the most beautiful pieces. For this district is also rich in history, notably by the monuments and mythical spaces which are there like the Carnavalet Museum, the garden of the National Archives, the place of the Bastille or the Circus of Winter. This arrondissement is divided into different districts, Arts et Métiers, Enfants Rouges, Archives and Saint-Avoye. Living in the third arrondissement means nestling in a rich cultural heritage and a young environment.
Housing close to everything
There are many private mansions, notably around the Place des Vosges, marked by the many artists who live there and the tea rooms where many personalities meet. This arrondissement has long been the definition of diversity, notably through the presence of numerous communities, the Auvergnats, the Jews, the Chinese and the gays. This ensemble has given a particular colouring to the third arrondissement.
For example, the famous "Carreau du Temple" and your shopping area where many artistic performances take place, in the middle of the fashionistas who make their purchases. Behind the facades that line the pedestrian streets, there are prestigious flats that are highly sought after.
Living in a historic building
In the heart of the neighbouring hotel, in the rue de Turenne, is a building dating from 1640, which has been renovated by a heritage architect and has a refined decoration. It faces a building typical of the third arrondissement, i.e. of an industrial style, and it borders a French garden. This arrondissement is the ideal place to invest your heritage.
An exceptional location
Here is an example of a prestigious flat, located on the third floor. Measuring approximately 100 m², this flat has a lot of light coming in through its windows, which open onto unoverlooked spaces. It also has exceptional features, such as a dressing room and a large living room. The beams bring an additional charm to this exceptional property. It is also ideal for a family, with three bedrooms and two bathrooms.
To read the full article,
click here.
Paris West Sotheby's International Realty, expert in
luxury and prestige real estate in Paris
The latest articles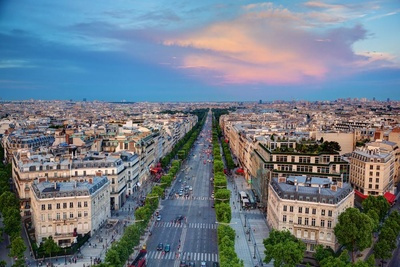 Real estate: real prices in Île-de-France, city by city
Real estate transactions in the Paris Region fell by a significant 25% in the second quarter of 2023, affecting all cities in the region. This trend is marked by an extension of the average property sales time, from just one month in 2022 to three and a half months...
Read more