Contact us
Paris Ouest (Paris 16ème - Victor Hugo)
Sotheby's International Realty
138 Avenue Victor Hugo
75116 PARIS, France
Paris Ouest (Paris 16ème - Auteuil)
Sotheby's International Realty
50 rue d'Auteuil
75016 PARIS, France
Paris Ouest (Paris 17ème - Etoile Monceau)
Sotheby's International Realty
82 Avenue de Wagram
75017 PARIS, France
Paris Ouest (Neuilly-sur-Seine)
Sotheby's International Realty
Place Sainte Foy - 2 Rue de Chézy
92200 NEUILLY, France
Paris Ouest (Hauts-de-Seine - Yvelines)
Sotheby's International Realty
Place Sainte Foy - 2 rue de Chézy
92200 NEUILLY, France
Paris Marais
Sotheby's International Realty
37-39 rue de Turenne
75003 PARIS, France
Paris Est
Sotheby's International Realty
14 rue de Charonne
75011 PARIS, France
>
>
>
Posted on 26/02/2021
The property of the week: a 300 sqm house in the Yvelines
LES ECHOS

This 19th century stone house is located in a popular area of the Yvelines, in the town of Chapet, five minutes drive from Orgeval and fifteen minutes from Saint-Germain-en-Laye. This property is located in a family area sought after for its rural character and the greenery it offers. This building offers the pleasure of being in a country spirit while being close to the bustle of the town. The A13 and A14 motorways notably provide access to La Défense and Porte Maillot in thirty minutes.
5 bedrooms and an outbuilding
This building offers a beautiful natural light on a 417 square metre garden. It is divided into two buildings, a main residence of 305 square metres and an outbuilding of 61 square metres.
The main house has four bedrooms, it is also possible to build a fifth bedroom. There is also a bathroom and three shower rooms. The outbuilding can either be used as a dwelling for guests or a young adult, or as a work space.
A vaulted cellar and a jacuzzi
The building is completed by a large workshop which can also be used as a garage, a beautiful vaulted cellar and a therapeutic jacuzzi/spa.
The house offers a sublime marriage between the charm of the old and the design of the modern, this alliance is very well realized. Indeed, old materials such as stones, oak beams and solid wood blend with the huge bay windows and paintings by Farrow and Ball.
The price of this property is displayed at 1,590,000 euros, to find out more contact Sophie Cardon from the luxury real estate network, Paris Ouest Sotheby's International Realty.
To read the full article,
click here.
Paris West Sotheby's International Realty, expert in
luxury and prestige real estate in Paris
The latest articles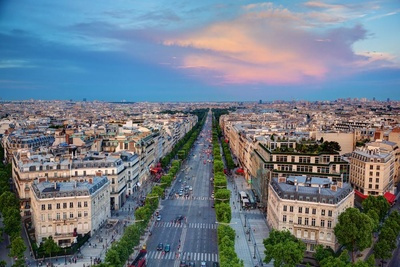 Real estate: real prices in Île-de-France, city by city
Real estate transactions in the Paris Region fell by a significant 25% in the second quarter of 2023, affecting all cities in the region. This trend is marked by an extension of the average property sales time, from just one month in 2022 to three and a half months...
Read more