Contact us
Paris Ouest (Paris 16ème - Victor Hugo)
Sotheby's International Realty
138 Avenue Victor Hugo
75116 PARIS, France
Paris Ouest (Paris 16ème - Auteuil)
Sotheby's International Realty
50 rue d'Auteuil
75016 PARIS, France
Paris Ouest (Paris 17ème - Etoile Monceau)
Sotheby's International Realty
82 Avenue de Wagram
75017 PARIS, France
Paris Ouest (Neuilly-sur-Seine)
Sotheby's International Realty
Place Sainte Foy - 2 Rue de Chézy
92200 NEUILLY, France
Paris Ouest (Hauts-de-Seine - Yvelines)
Sotheby's International Realty
Place Sainte Foy - 2 rue de Chézy
92200 NEUILLY, France
Paris Marais
Sotheby's International Realty
37-39 rue de Turenne
75003 PARIS, France
Paris Est
Sotheby's International Realty
37-39 rue de Turenne
75003 PARIS, France
>
>
>
LES ECHOS
L'immobilier de luxe conserve ses couleurs malgré la crise

Alexander Kraft, Managing Director of Sotheby's International Realty France Monaco is surprised by the positive state of the real estate market. Although sales have been slowed by the second containment, this has had no impact on the signing of sales or the receipt of purchase plans. Admittedly, the conditions were different, but the attraction of buyers for a new life stabilized sale and strengthened them.
Whether buying a villa by the sea or a Parisian apartment with a terrace, there were many customers. Confinement has developed a desire to breathe, to get closer to nature and to have more space in the face of the many corporate transitions to teleworking. The absence of foreigners, an important clientele in the uptown areas of Paris, has not been a scourge because French buyers have helped maintain an intense pace in real estate. Also, these foreign clients already plan to visit in January if they are unable to see the apartments, they are currently interested in. Alexander Kraft is therefore looking forward to a certain stability and a future that seems rather positive.
To read the full article,
click here.
Paris West Sotheby's International Realty, specialist in
luxury and prestige real estate in Paris
The latest articles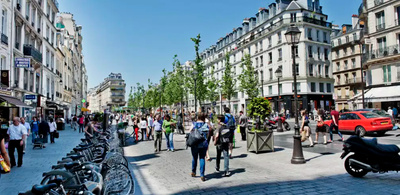 The big gap between arrondissements
From one arrondissement to another, the market is gaining strength but remains selective. Focus on prices, arrondissement by arrondissement. Paris Centre: 1st, 2nd, 3rd and 4th arrondissements: The heart of old Paris has fallen by 2% in one year but it remains the...
Read more