Contact us
Paris Ouest (Paris 16ème - Victor Hugo)
Sotheby's International Realty
138 Avenue Victor Hugo
75116 PARIS, France
Paris Ouest (Paris 16ème - Auteuil)
Sotheby's International Realty
50 rue d'Auteuil
75016 PARIS, France
Paris Ouest (Paris 17ème - Etoile Monceau)
Sotheby's International Realty
82 Avenue de Wagram
75017 PARIS, France
Paris Ouest (Neuilly-sur-Seine)
Sotheby's International Realty
Place Sainte Foy - 2 Rue de Chézy
92200 NEUILLY, France
Paris Ouest (Hauts-de-Seine - Yvelines)
Sotheby's International Realty
Place Sainte Foy - 2 rue de Chézy
92200 NEUILLY, France
Paris Marais
Sotheby's International Realty
37-39 rue de Turenne
75003 PARIS, France
Paris Est
Sotheby's International Realty
14 rue de Charonne
75011 PARIS, France
>
>
>
Posted on 04/11/2020
Real Estate : campaign seduces but does not sell
LE PARISIEN

However, sales are scarce. In spite of the reverie that this place can bring, its location poses a problem. Indeed, "no one wants to put more than two million euros into a house in the heart of the 20th arrondissement," says David Prazowski, director of the Sotheby's du Marais agency. Potential buyers correspond to a very small part of the clientele.
A neighborhood with unique architecture
Although there was only one sale in 2019, the neighborhood, for example, seduced the former President of the French Republic, François Hollande, who bought a house there. "Campagne in Paris is unique from an architectural point of view, it can't be compared to any other neighborhood," explains David Prazowski. This point is underlined on the one hand by the exclusive presence of the house, but also by its bucolic charm, reminiscent, as its name suggests, of the countryside.
One could have imagined that the confinement would boost sales in this neighborhood. In fact, the presence of gardens could have seduced customers in search of greenery. But this is not the only condition, Parisians want to get away from Paris and prefer to buy in the French Riviera or Normandy. "We have people from the west of Paris, who have spent the confinement in apartments, who look to the east, where prices are lower, to have a house and a garden while staying in Paris," recalls David Prazowski in the face of an average of 10,000 euros per square meter in Campagne.
Finally, this neighborhood has double-edged advantages. Being in a working-class district, which can seduce some rich owners but also repel some. Also, the schools are not at the same level as in other Parisian neighborhoods, which rules out a certain number of potential buyers.
Find the full article
here.
Paris West Sotheby's International Realty, specialist in
luxury real estate in Paris
The latest articles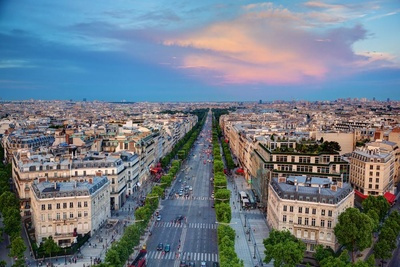 Real estate: real prices in Île-de-France, city by city
Real estate transactions in the Paris Region fell by a significant 25% in the second quarter of 2023, affecting all cities in the region. This trend is marked by an extension of the average property sales time, from just one month in 2022 to three and a half months...
Read more