Contact us
Paris Ouest (Paris 16ème - Victor Hugo)
Sotheby's International Realty
138 Avenue Victor Hugo
75116 PARIS, France
Paris Ouest (Paris 16ème - Auteuil)
Sotheby's International Realty
50 rue d'Auteuil
75016 PARIS, France
Paris Ouest (Paris 17ème - Etoile Monceau)
Sotheby's International Realty
82 Avenue de Wagram
75017 PARIS, France
Paris Ouest (Neuilly-sur-Seine)
Sotheby's International Realty
Place Sainte Foy - 2 Rue de Chézy
92200 NEUILLY, France
Paris Ouest (Hauts-de-Seine - Yvelines)
Sotheby's International Realty
Place Sainte Foy - 2 rue de Chézy
92200 NEUILLY, France
Paris Marais
Sotheby's International Realty
37-39 rue de Turenne
75003 PARIS, France
Paris Est
Sotheby's International Realty
37-39 rue de Turenne
75003 PARIS, France
>
>
>
LE MONDE
Prestige real estate always seduces

While this absence raised fears of a drop-in sales, there was a surge in flash sales, such as a house with a garden in Neuilly sold in one day at 3.3 million euros. Sales are still present and remain well above the average of about 10,000 euros per square meter, they are approaching more than 15,000 euros per square meter. In addition, when they have exceptional elements such as a beautiful location or outdoor space, prices can rise to 20,000 euros.
To explain this surge, one must understand that confinement has reshaped the desires of buyers. Being confined and experiencing teleworking has made people consider a longer time in the main residence, which makes them want more space. Also, the coronavirus crisis has caused the CAC 40 to collapse by 15%, leading investors to focus on investing in stability, namely real estate. Indeed, this is safe because real estate in Paris is constantly increasing.
Alexander Kraft, president of Sotheby's International Realty France and Monaco, observes an increase of 20% of the sales of its agencies between January and June 2020. An astonishing score whereas the foreign customers cannot reach the capital anymore. But this absence still leaves us to fear a more demanding market. Goods without defects sell very quickly and sometimes more expensive than their estimated value, while goods, even with few defects, take much longer to sell and are subject to negotiations.
Find the complete article
here.
Paris West Sotheby's International Realty, specialist in
luxury and prestige real estate in Paris
The latest articles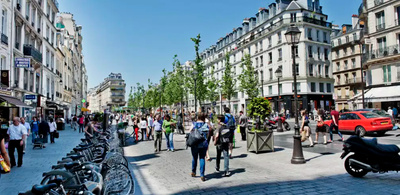 The big gap between arrondissements
From one arrondissement to another, the market is gaining strength but remains selective. Focus on prices, arrondissement by arrondissement. Paris Centre: 1st, 2nd, 3rd and 4th arrondissements: The heart of old Paris has fallen by 2% in one year but it remains the...
Read more