Contact us
Paris Ouest (Paris 16ème - Victor Hugo)
Sotheby's International Realty
138 Avenue Victor Hugo
75116 PARIS, France
Paris Ouest (Paris 16ème - Auteuil)
Sotheby's International Realty
50 rue d'Auteuil
75016 PARIS, France
Paris Ouest (Paris 17ème - Etoile Monceau)
Sotheby's International Realty
82 Avenue de Wagram
75017 PARIS, France
Paris Ouest (Neuilly-sur-Seine)
Sotheby's International Realty
Place Sainte Foy - 2 Rue de Chézy
92200 NEUILLY, France
Paris Ouest (Hauts-de-Seine - Yvelines)
Sotheby's International Realty
Place Sainte Foy - 2 rue de Chézy
92200 NEUILLY, France
Paris Marais
Sotheby's International Realty
37-39 rue de Turenne
75003 PARIS, France
Paris Est
Sotheby's International Realty
14 rue de Charonne
75011 PARIS, France
>
>
>
Posted on 21/10/2020
Luxury house in Saint-Germain-en-Laye, rooted in a royal fiefdom
BELLES DEMEURES

To live in Saint Germain en Laye is to enjoy the authenticity of a city marked by royalty while maintaining proximity to the capital. Indeed, this haven of peace is located 30 minutes away from Paris, and offers the right balance between a bucolic space and the animation of the city.

A typical 19th century property
In the Pontel neighborhood, a historic space with its green origins, luxury properties such as this one, which offers a plot of 1,300 m2.

An authentic cachet
This property of 377 m² living space, has 11 rooms, including a living room with a bow window and a fireplace but also a large garden and an extension.

A property from the 30's
Close to transportation and schools, this property will delight the nobility by its prestige and authenticity.

The sensitive combination of classic and modernity
In a vast ground of 690 m², a property of 323 m² takes place, embellished of its reception of 50 m², of its ornaments of old woodworks, but also of five bedrooms.

In the district Alsace/Lorraine
At the crossroads of the most elegant and sought-after neighborhoods, this house takes its place in a peaceful space.

Bay windows open onto the greenery
A villa of 180 m2 overhanging a land of 390 m², its living room with fireplace, its fully fitted kitchen will seduce you.

A house close to the market
This 12-room house is located close to one of the city's attractions.

A renovation in a contemporary spirit
Sublime villa built in 1927, it is composed of 290 m², with 12 rooms, a living room open on a terrace, and notably a study.

A mansion on the outskirts of Saint Germain
Prestigious property of the 17th century, this property is rich of its southern exposure as well as of its immense par of 16.3 hectares.

An estate of 900 m2
This small estate is composed of 24 rooms, a triple living room of reception and other exceptional rooms such as a wine cellar but above all an outbuilding of 170 m2.
Find the full article here.
>> Discover our luxury properties for sale in Paris
The latest articles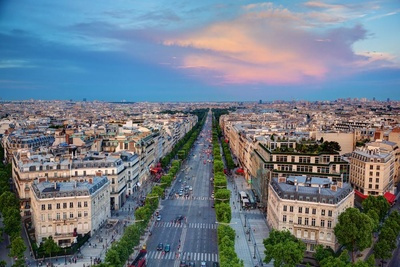 Real estate: real prices in Île-de-France, city by city
Real estate transactions in the Paris Region fell by a significant 25% in the second quarter of 2023, affecting all cities in the region. This trend is marked by an extension of the average property sales time, from just one month in 2022 to three and a half months...
Read more