Contact us
Paris Ouest (Paris 16ème - Victor Hugo)
Sotheby's International Realty
138 Avenue Victor Hugo
75116 PARIS, France
Paris Ouest (Paris 16ème - Auteuil)
Sotheby's International Realty
50 rue d'Auteuil
75016 PARIS, France
Paris Ouest (Paris 17ème - Etoile Monceau)
Sotheby's International Realty
82 Avenue de Wagram
75017 PARIS, France
Paris Ouest (Neuilly-sur-Seine)
Sotheby's International Realty
Place Sainte Foy - 2 Rue de Chézy
92200 NEUILLY, France
Paris Ouest (Hauts-de-Seine - Yvelines)
Sotheby's International Realty
Place Sainte Foy - 2 rue de Chézy
92200 NEUILLY, France
Paris Marais
Sotheby's International Realty
37-39 rue de Turenne
75003 PARIS, France
Paris Est
Sotheby's International Realty
14 rue de Charonne
75011 PARIS, France
>
>
>
Posted on 14/10/2020
COVID-19: Luxury Real Estate doesn't know the crisis
ACECREDIT

According to Alexander Kraft, CEO of Sotheby's International Realty, the wealthiest have no difficulty in accessing real estate credit, which maintains sales of prestige properties.

A branch of the real estate industry facing the crisis
Between 2019 and 2020, Sotheby's International Realty's results were almost equivalent, in fact, in 2019, the balance sheet was 449 million euros, while in 2020, the company earned 435 million euros. The decline is so small that it makes the results exceptional. In total, no less than 157 sales of approximately 1.55 million euros were made. In general, according to the Observatory of Housing Credit, the credit has a monthly payment of one million euros over 20 years with a fixed rate of 0.91% for the best files and the buyers participate in a significant part of the price of the property.

Current trends
Alexander Kraft notes a change in the desires of the French. The main residence should be a more pleasant and open place to live, especially by favouring balconies or gardens. Also, they are looking for a second home in order to offer themselves a haven of peace with family or friends. All of these criteria converge towards a final desire, to have a better quality of life.

Popular geographical areas
We are seeing an increase in sales in seaside areas such as the Côte d'Azur, luxury mountain resorts such as Megève, or rural areas such as Normandy. According to the Observatory for Housing Credit, credit rates are stable, averaging about 1.24% in August.
Find the full article here
Paris Ouest Sotheby's International Realty, your reference in luxury real estate in Paris
The latest articles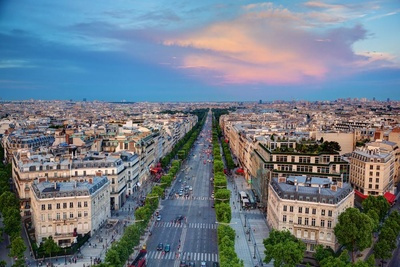 Real estate: real prices in Île-de-France, city by city
Real estate transactions in the Paris Region fell by a significant 25% in the second quarter of 2023, affecting all cities in the region. This trend is marked by an extension of the average property sales time, from just one month in 2022 to three and a half months...
Read more