Contact us
Paris Ouest (Paris 16ème - Victor Hugo)
Sotheby's International Realty
138 Avenue Victor Hugo
75116 PARIS, France
Paris Ouest (Paris 16ème - Auteuil)
Sotheby's International Realty
50 rue d'Auteuil
75016 PARIS, France
Paris Ouest (Paris 17ème - Etoile Monceau)
Sotheby's International Realty
82 Avenue de Wagram
75017 PARIS, France
Paris Ouest (Neuilly-sur-Seine)
Sotheby's International Realty
Place Sainte Foy - 2 Rue de Chézy
92200 NEUILLY, France
Paris Ouest (Hauts-de-Seine - Yvelines)
Sotheby's International Realty
Place Sainte Foy - 2 rue de Chézy
92200 NEUILLY, France
Paris Marais
Sotheby's International Realty
37-39 rue de Turenne
75003 PARIS, France
Paris Est
Sotheby's International Realty
14 rue de Charonne
75011 PARIS, France
>
>
>
Posted on 07/10/2020
Apartment in Versailles, investment in majesty
BELLES DEMEURES

To buy a property in Versailles is to live in the heart of an area steeped in history. Prestigious city, it seduces for its luxury properties.

A property just a stone's throw from the palace
A property is offered for sale, in a popular area, the Place d'Armes with a direct view of the Versailles gardens. This 212 square meter apartment, facing south, this 8 room apartment offers a dream location in the heart of a city steeped in history.

Life in the Saint-Louis neighborhood
Close to transportation, this property of 118 square meters, in an 18th century building, offers a living room facing south with a fireplace.

A duplex close to the train station
Also close to transportation, this apartment of about 100 square meters offers a double living room of about 50 square meters with two advantages, a whirlpool bath and a terrace.

A property in the Notre-Dame district
In a very sought-after space, this 176 square meters has a double living room with a terrace of about 40 square meters and a vast attic.

Living in an old city, in a modern neighborhood
In the heart of modern neighborhoods in Clagny, a luxury space on the second floor offers 134 square meters with a large lounge and the advantage of having two boxes.
Find the complete article here.

>> Discover our luxuy properties and mansions for sale in Paris
The latest articles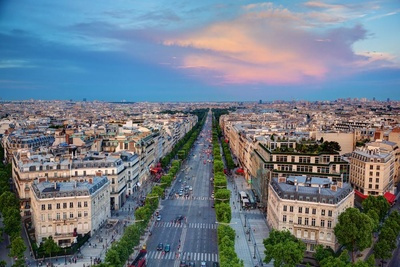 Real estate: real prices in Île-de-France, city by city
Real estate transactions in the Paris Region fell by a significant 25% in the second quarter of 2023, affecting all cities in the region. This trend is marked by an extension of the average property sales time, from just one month in 2022 to three and a half months...
Read more