Contact us
Paris Ouest (Paris 16ème - Victor Hugo)
Sotheby's International Realty
138 Avenue Victor Hugo
75116 PARIS, France
Paris Ouest (Paris 16ème - Auteuil)
Sotheby's International Realty
50 rue d'Auteuil
75016 PARIS, France
Paris Ouest (Paris 17ème - Etoile Monceau)
Sotheby's International Realty
82 Avenue de Wagram
75017 PARIS, France
Paris Ouest (Neuilly-sur-Seine)
Sotheby's International Realty
Place Sainte Foy - 2 Rue de Chézy
92200 NEUILLY, France
Paris Ouest (Hauts-de-Seine - Yvelines)
Sotheby's International Realty
Place Sainte Foy - 2 rue de Chézy
92200 NEUILLY, France
Paris Marais
Sotheby's International Realty
37-39 rue de Turenne
75003 PARIS, France
Paris Est
Sotheby's International Realty
14 rue de Charonne
75011 PARIS, France
>
>
>
Posted on 09/09/2020
Penthouse, l'appartement qui prend de la hauteur
BELLES DEMEURES

Born in the 1920s in New York City, the penthouse has several characteristics, including its presence on the top floor of a building, with a terrace offering a panoramic view. The attraction for this type of property was born from a sense of privilege and originality. Their rarity and exceptional characteristics make them highly sought-after properties.
In the Ile de France region, for example, there is a 267 sqm property in the Ile de la Jatte neighborhood. With its 300 sqm terrace, one can take pleasure in overlooking the island and its decor reminiscent of impressionist painters. Still in the Hauts de Seine, a property in the business district of La Défense offers the privilege of a vast terrace of more than 200 sqm equipped with a Jacuzzi and a pergola. Similarly in Paris, in a popular area of the 16th arrondissement, for its proximity to green spaces, a property offers three terraces with a 360 degree view of the city.
The city of Lyon also has a penthouse equipped with an elevator and a swimming pool, with a breathtaking view overlooking the Alps. On the French Riviera, the village of Saint-Jean-Cap-Ferret is not to be outdone with a living/dining room offering a view on the large sea view terrace.
Find the whole article here.

Discover our luxury homes for sale in Paris
The latest articles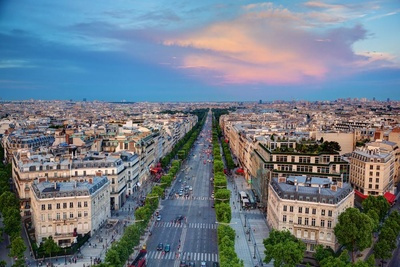 Real estate: real prices in Île-de-France, city by city
Real estate transactions in the Paris Region fell by a significant 25% in the second quarter of 2023, affecting all cities in the region. This trend is marked by an extension of the average property sales time, from just one month in 2022 to three and a half months...
Read more