Contact us
Paris Ouest (Paris 16ème - Victor Hugo)
Sotheby's International Realty
138 Avenue Victor Hugo
75116 PARIS, France
Paris Ouest (Paris 16ème - Auteuil)
Sotheby's International Realty
50 rue d'Auteuil
75016 PARIS, France
Paris Ouest (Paris 17ème - Etoile Monceau)
Sotheby's International Realty
82 Avenue de Wagram
75017 PARIS, France
Paris Ouest (Neuilly-sur-Seine)
Sotheby's International Realty
Place Sainte Foy - 2 Rue de Chézy
92200 NEUILLY, France
Paris Ouest (Hauts-de-Seine - Yvelines)
Sotheby's International Realty
Place Sainte Foy - 2 rue de Chézy
92200 NEUILLY, France
Paris Marais
Sotheby's International Realty
37-39 rue de Turenne
75003 PARIS, France
Paris Est
Sotheby's International Realty
14 rue de Charonne
75011 PARIS, France
>
>
>
Posted on 12/08/2020
Covid-19 and French real estate : expectations have changed
IMMOMATIN

According to the study conducted in June 2020, by the Properties section of the newspaper Le Figaro, French people's expectations have changed. In fact, the main residence is now a place for family reunions, where memories are built and evolve over time. Julien Breuilh, director of studies, emphasizes that with the confinement, the place of residence sees its function as a refuge reinforced and highlights the stability of the luxury real estate market.
Rethinking the criteria for living:
It is no longer so much the price or the location that prevails in the hearts of buyers, but rather the living environment, with a bright home and outdoor space. Indeed, teleworking has reinforced the need for pleasant living accommodation. In addition, this new way of working has encouraged people to move away from the big cities, as the need to be present in an office is no longer real, and the French consider a life in the countryside, further away from the cities. Thus, whether for primary or secondary residences, buyers are looking for proximity to the sea (61%), the countryside (38%) or the mountains (10%).

To find the full article, click here.

Related : our luxury homes for sale in Paris
The latest articles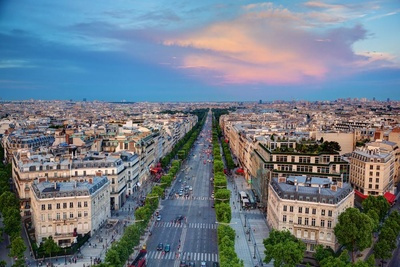 Real estate: real prices in Île-de-France, city by city
Real estate transactions in the Paris Region fell by a significant 25% in the second quarter of 2023, affecting all cities in the region. This trend is marked by an extension of the average property sales time, from just one month in 2022 to three and a half months...
Read more