Contact us
Paris Ouest (Paris 16ème - Victor Hugo)
Sotheby's International Realty
138 Avenue Victor Hugo
75116 PARIS, France
Paris Ouest (Paris 16ème - Auteuil)
Sotheby's International Realty
50 rue d'Auteuil
75016 PARIS, France
Paris Ouest (Paris 17ème - Etoile Monceau)
Sotheby's International Realty
82 Avenue de Wagram
75017 PARIS, France
Paris Ouest (Neuilly-sur-Seine)
Sotheby's International Realty
Place Sainte Foy - 2 Rue de Chézy
92200 NEUILLY, France
Paris Ouest (Hauts-de-Seine - Yvelines)
Sotheby's International Realty
Place Sainte Foy - 2 rue de Chézy
92200 NEUILLY, France
Paris Marais
Sotheby's International Realty
37-39 rue de Turenne
75003 PARIS, France
Paris Est
Sotheby's International Realty
14 rue de Charonne
75011 PARIS, France
>
>
>
Posted on 08/07/2020
Real estate : the castle lifestyle seduces again
LES ECHOS

After the health crisis, they benefit fully from the renewed appeal for the countryside and for second homes not too far from cities where they can telework.
With the Covid-19 crisis and containment, more and more people are turning to a more peaceful life, looking for a second home close to Paris for teleworking.
Indeed, this crisis has revived the craze for the ailing market of castles. In fact, real estate agents noticed a desire to return to the countryside and a craving to look for a haven of peace.
In general, the French are looking for a luxury pied-à-terre outside the big cities. "With the development of teleworking, there are much more people, and younger people than before, who are offering themselves a castle, not just as a second residence, but to work part-time from there," says Alexander Kraft, CEO of Sotheby's International Realty for France and Monaco. This development is significant in the Loire region, Brittany and Normandy.
However, sales agents remain cautious, as the cost of maintaining a castle and the investment it requires will not allow a considerable increase in the sale of these prestigious properties.
Find this article
here
>
All our luxury homes for sale in Paris
The latest articles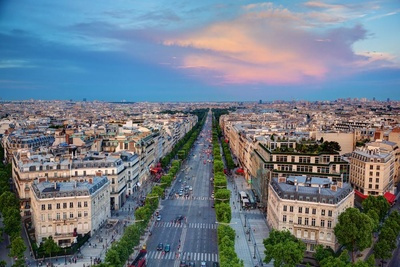 Real estate: real prices in Île-de-France, city by city
Real estate transactions in the Paris Region fell by a significant 25% in the second quarter of 2023, affecting all cities in the region. This trend is marked by an extension of the average property sales time, from just one month in 2022 to three and a half months...
Read more