Contact us
Paris Ouest (Paris 16ème - Victor Hugo)
Sotheby's International Realty
138 Avenue Victor Hugo
75116 PARIS, France
Paris Ouest (Paris 16ème - Auteuil)
Sotheby's International Realty
50 rue d'Auteuil
75016 PARIS, France
Paris Ouest (Paris 17ème - Etoile Monceau)
Sotheby's International Realty
82 Avenue de Wagram
75017 PARIS, France
Paris Ouest (Neuilly-sur-Seine)
Sotheby's International Realty
Place Sainte Foy - 2 Rue de Chézy
92200 NEUILLY, France
Paris Ouest (Hauts-de-Seine - Yvelines)
Sotheby's International Realty
Place Sainte Foy - 2 rue de Chézy
92200 NEUILLY, France
Paris Marais
Sotheby's International Realty
37-39 rue de Turenne
75003 PARIS, France
Paris Est
Sotheby's International Realty
37-39 rue de Turenne
75003 PARIS, France
>
>
>
EMPRUNTIS
Real estate market: is the price fall taking shape?

It will take a few more months to observe the consequences of Covid-19 on the real estate market, but, as Alexander Kraft, CEO of Sotheby's International Realty France - Monaco confides, at Le Figaro the cancellation rate for real estate acquisitions has been low and that activity has picked up very well.
For several weeks, real estate agencies were forced to lower their curtain, however, Sotheby's International Realty set up virtual tours. This made it possible to keep in touch with the buyers and sellers.
In 2008, following the international financial crisis, the fall in property prices was felt. It is very likely that we will find a fall, less substantial than during the last crisis, in the real estate market. Today, credit rates are similar to those of last year, it is still very interesting to realize his real estate project.
Find the full article on: https://www.empruntis.com/financement/actualites/marche-immobilier-la-baisse-des-prix-prend-elle-forme,9349
Paris Ouest Sotheby's International Realty, your expert in
luxury real estate in Paris
The latest articles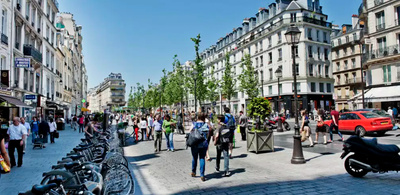 The big gap between arrondissements
From one arrondissement to another, the market is gaining strength but remains selective. Focus on prices, arrondissement by arrondissement. Paris Centre: 1st, 2nd, 3rd and 4th arrondissements: The heart of old Paris has fallen by 2% in one year but it remains the...
Read more