Contact us
Paris Ouest (Paris 16ème - Victor Hugo)
Sotheby's International Realty
138 Avenue Victor Hugo
75116 PARIS, France
Paris Ouest (Paris 16ème - Auteuil)
Sotheby's International Realty
50 rue d'Auteuil
75016 PARIS, France
Paris Ouest (Paris 17ème - Etoile Monceau)
Sotheby's International Realty
82 Avenue de Wagram
75017 PARIS, France
Paris Ouest (Neuilly-sur-Seine)
Sotheby's International Realty
Place Sainte Foy - 2 Rue de Chézy
92200 NEUILLY, France
Paris Ouest (Hauts-de-Seine - Yvelines)
Sotheby's International Realty
Place Sainte Foy - 2 rue de Chézy
92200 NEUILLY, France
Paris Marais
Sotheby's International Realty
37-39 rue de Turenne
75003 PARIS, France
Paris Est
Sotheby's International Realty
14 rue de Charonne
75011 PARIS, France
>
>
>
Posted on 11/05/2020
Containment : The 6 museums you can comfortably visit from your home
Blog Sotheby's International Realty

While staying at home and maintaining social distance are the best actions to fight the COVID-19 pandemic, this does not mean that we must lose our cultural activities around the world.
Thanks to the Google Arts & Culture Project, from the Museum of Modern Art in New York City, to the Rijks Museum in Amsterdam, here are the 6 museums you can visit from your home.
MoMA, New York For 90 years and the first museum founded to exhibit modern art, The Museum of Modern Art in New York. From Picasso to Van Gogh, the MoMA exhibits incredible works from the history of contemporary art.
Museo Frida Kahlo, Mexico City Visit La Casa Azul, the former home of the must-see artist Frida Kahlo - and the museum's current home in honor of her life and legacy. Here we discover not only works by Frida Kahlo, but also many personal effects including her clothes and a famous molded body which she painted when she was sick.
Orsay Museum, Paris at the Musée d'Orsay, you will discover many works by French artists who lived and produced between 1848 and 1914. Canvases by Monet, Gauguin, Cézanne, among many others, are presented throughout this Parisian visit .
The Galleria Nazionale, Rome, with only around 500 of his 20,000 or so works of art, the virtual tour of La Galleria Nazionale in Rome presents everything from antiques to seminal pieces representing the Futurist and Surrealist artistic movements.
Georgia O'Keeffe Museum, Santa Fe In honor of one of America's most distinguished artists, the Geogia O'Keeffe Museum is located in the same "New Mexico" wilderness it once called home. Thanks to an incredible legacy left by the deceased artist, visitors can enrich their artistic knowledge with 30 works that can be viewed online.
Rijks Museum, Amsterdam One of the richest digital experiences is the Rijks Museum in Amsterdam. With more than 145,000 works available in the virtual library, you can admire paintings by artists such as Rembrandt, Vermeer and Verspron
Paris Ouest Sotheby's International Realty, your specialist in
luxury real estate in Paris
The latest articles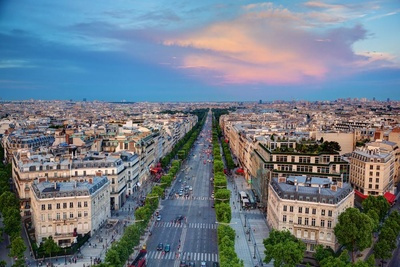 Real estate: real prices in Île-de-France, city by city
Real estate transactions in the Paris Region fell by a significant 25% in the second quarter of 2023, affecting all cities in the region. This trend is marked by an extension of the average property sales time, from just one month in 2022 to three and a half months...
Read more