Contact us
Paris Ouest (Paris 16ème - Victor Hugo)
Sotheby's International Realty
138 Avenue Victor Hugo
75116 PARIS, France
Paris Ouest (Paris 16ème - Auteuil)
Sotheby's International Realty
50 rue d'Auteuil
75016 PARIS, France
Paris Ouest (Paris 17ème - Etoile Monceau)
Sotheby's International Realty
82 Avenue de Wagram
75017 PARIS, France
Paris Ouest (Neuilly-sur-Seine)
Sotheby's International Realty
Place Sainte Foy - 2 Rue de Chézy
92200 NEUILLY, France
Paris Ouest (Hauts-de-Seine - Yvelines)
Sotheby's International Realty
Place Sainte Foy - 2 rue de Chézy
92200 NEUILLY, France
Paris Marais
Sotheby's International Realty
37-39 rue de Turenne
75003 PARIS, France
Paris Est
Sotheby's International Realty
37-39 rue de Turenne
75003 PARIS, France
>
>
>
A new record for Sotheby's International Realty France - Monaco
Luxury real estate : an apartment sold for 39 million euro in Paris

Luxury realty is definitely alive and kicking in Paris. In the capital's highly desirable 7th district, a triplex apartment offering over 1,000 sqm of living space has been sold by the leader of luxury realty, Sotheby's International Realty France - Monaco. The 7th district has the reputation of being one of the capital's most "chic" neighourhoods, with numerous ministries, the Prime minister's residence Hotel Matignon, the National Assembly, the UNESCO headquarters and also world-famous museums including Quai Branly, the Rodin Museum and the magnificent Orsay Museum. What however makes the 7th district one of the most coveted and prestigious in the capital is undoubtedly its proximity to the Champ-de-Mars and the Eiffel Tower.
This duplex apartment occupying the basement and garden level of a
private mansion
comprises no less than 16 rooms and also benefits from a 300 sqm private garden. A unique property for a unique buyer... In this case, a European industrialist who, as Brexit approached, wished to leave the United Kingdom.
Click here to read the article.
Paris Ouest Sotheby's International Realty, your expert in luxury real estate in Paris
The latest articles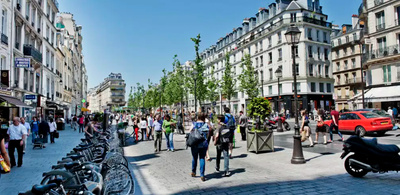 The big gap between arrondissements
From one arrondissement to another, the market is gaining strength but remains selective. Focus on prices, arrondissement by arrondissement. Paris Centre: 1st, 2nd, 3rd and 4th arrondissements: The heart of old Paris has fallen by 2% in one year but it remains the...
Read more